Crispy on the outside and soft and chewy on the inside, this easy French bread recipe is one you'll want to make again and again. You'll be surprised at how simple it is, but tastes like it's fresh from the bakery.
A warm loaf of French bread is the ultimate companion to a good meal! Serve it alongside pasta, soup, potatoes and gravy, dip it olive oil, make garlic bread with it…it's so perfect with just about anything! Making your own loaf of French bread doesn't have to be overly complicated. This recipe is simple and easy, with most of the time devoted to letting it rise. It takes little effort but has a big payoff!
How to bake with yeast
Working with yeast dough can be intimidating at first, but the more you do it, the more comfortable you will get! Yeast is a living organism that just needs the right conditions to thrive. It feeds off of sugar and starches. When it feeds, it releases carbon dioxide gas in the form of air bubbles in the dough. This process is also known as "fermentation". This is what gives bread dough its volume and airy texture.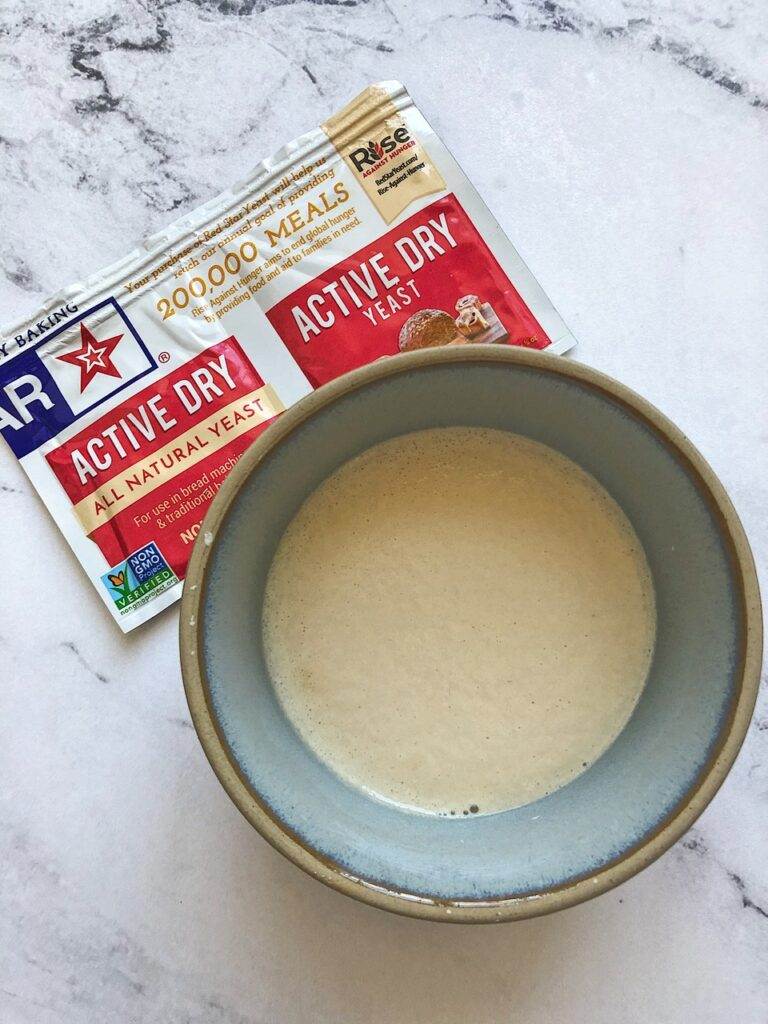 If you want more information about yeast, check out my article about Active Dry Yeast vs. Instant Yeast. I also have a Guide to making Sourdough Starter, which is how to make a natural yeast.
Are you looking for more help with your bread making?
This recipe is a really great starting point if you are new to bread making. Making bread from scratch can be intimidating, but it doesn't have to be! It just takes practice! As you make bread more and more, you will get a better feel for how the dough should be feeling. I try to provide as much guidance as I can in my recipes – I was a beginner once too and know how overwhelming bread making can seem.
If you are looking for more guidance, my virtual baking classes would be a great option for you! I offer several of my classic bread recipes as a virtual baking class – each has my pre recorded videos, showing you how to make a recipe from start to finish. This is so helpful for visual learners! I break it down and show you how everything should be looking at every stage of the bread recipe! You can find my list of virtual baking classes HERE.
Making this homemade french bread recipe
This homemade bread can be made in under 3 hours, with most of the time devoted to letting it rise. It's easiest to make bread dough with a stand mixer – my favorite bread mixer is the Bosch Universal Plus mixer, because of its strong motor and large mixing capacity. However, if you don't have a mixer, you can mix and knead by hand – but be prepared for a great arm workout!
Ingredients
The recipe contains very simple ingredients. Sometimes the simplest ingredients make the best bread results! There are a few ingredients that help this homemade bread turn out just right. Be sure to use the suggested ingredients to get the best results
Bread flour is best for using when making yeasted bread dough. It has a higher gluten content and will create the best texture for your bread. If you like chewy, fluffy bread, make sure you use bread flour. It's easily accessible. Whenever possible, I prefer to use unbleached bread flour like this one HERE.
Instant Yeast is a dry, commercial yeast that I like to bake with most often. Since it is "instant", it is designed to be added directly to your ingredients without having to proof it first. I really like THIS instant yeast brand.
Olive oil will help add richness of oil and a tender crumb. I like to use extra virgin olive oil for this recipe, which gives it a deeper flavor.
Mixing the dough
Mixing bread dough is key to getting the best bread results. My number one tip for this process is to avoid adding too much flour. It's easy to get stuck in the cycle of adding too much flour, thinking the dough is too sticky. In this recipe, I suggest you reserve one cup of flour and add it gradually at the end, stopping to check how the dough is feeling. Touch is the best indicator for knowing when you've added enough flour. It's important to keep in mind that your dough's texture will change drastically after the first rise – making it much easier to handle.
Get all of your ingredients measured out ahead of time – this helps the mixing process go more smoothly.
Prepare your warm water – it should be around 110°F. If you don't have a thermometer, it should feel lukewarm. Water that is too hot will kill your instant yeast, preventing your bread from rising.
Add all of the ingredients in the bowl of your stand mixer, reserving one cup of flour.
Using the dough hook attachment, combine the ingredients on low speed. Mix until they are fully combined. Stop the mixer and lightly tap on the dough with your finger. If it's excessively sticky or wet, add 1/4 cup of flour and mix on low until combined. Stop your mixer and check with your finger again. Repeat if needed. The dough should feel soft and slightly tacky, but not wet. Avoid adding too much flour – this will make your bread dry and dense.
Once you get the right feel of your dough, knead it on low speed for 5 minutes. The dough should clean the sides of the bowl and form a soft ball. Let it rest in the mixer for 5 minutes after kneading.
First bread dough rise
Now it's time to let your dough rise. This recipe calls for a double rise, meaning it will rise twice.
The first rise is called "bulk fermentation". This is when we rise the whole dough in one bowl. You will notice that the texture and feel of your dough will change drastically after the bulk fermentation. It will be much easier to handle when it comes time to form your loaves. Place your dough in a large, greased bowl. Turn it so all sides are coated in the oil, preventing it from drying out as it rises. Cover the bowl with a clean kitchen towel and let the dough rise in a warm place in your kitchen until it doubles in size. Depending on the temperature of your kitchen, this could take 60-90 minutes.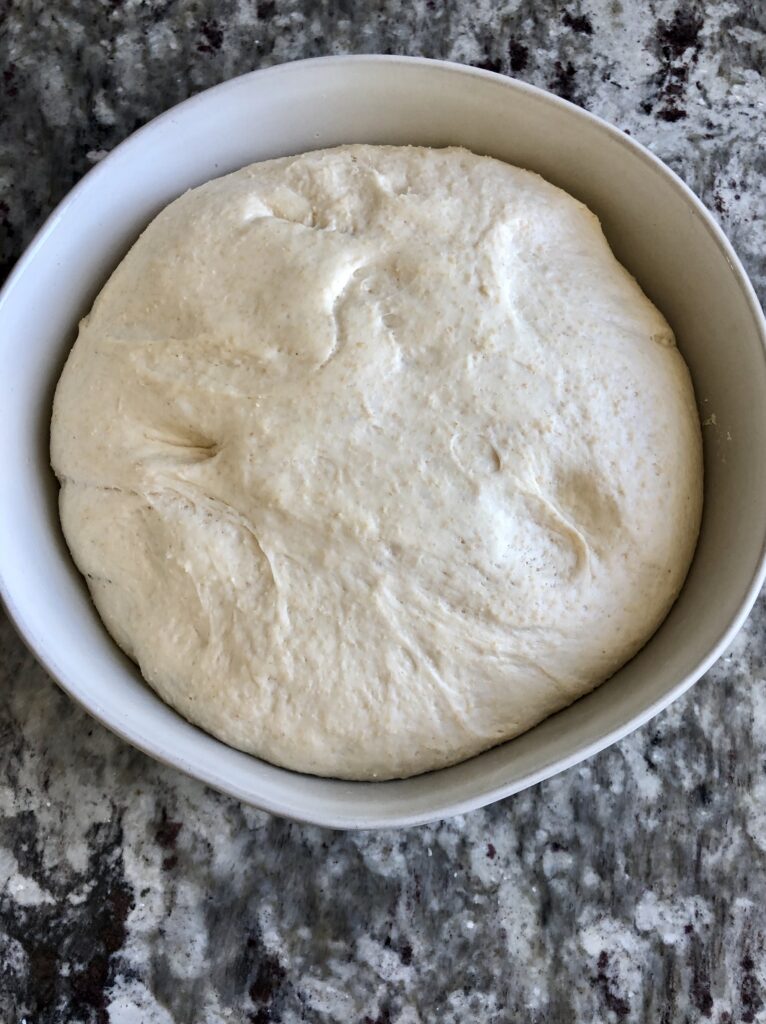 Shape the bread dough
Once your dough has risen to double in size, it's time to form your loaves. Turn the dough out onto a lightly floured countertop. Flour the top of the dough and fold it over. I have found that this helps to make it easier to handle.
Flatten the dough into a rectangle.
Roll it up tightly.
Pinch the seam shut.
Place it on a French bread loaf pan or baking sheet lined with parchment paper.
With a sharp, serrated knife, score a few shallow cuts on the top of the loaf, about 1 inch deep. This allows the bread to expand in the oven (and looks pretty too!)
Second and final bread dough rise
Allowing your dough to have two rises helps to build a strong crumb texture. A second rise will help give it better volume, and a more complex and delicious flavor. The second rise is referred to as "proofing". Once your loaf is in its pan, cover it with a clean towel and let it rise until doubled in size. Depending on how warm your kitchen is, this could take 30-60 minutes.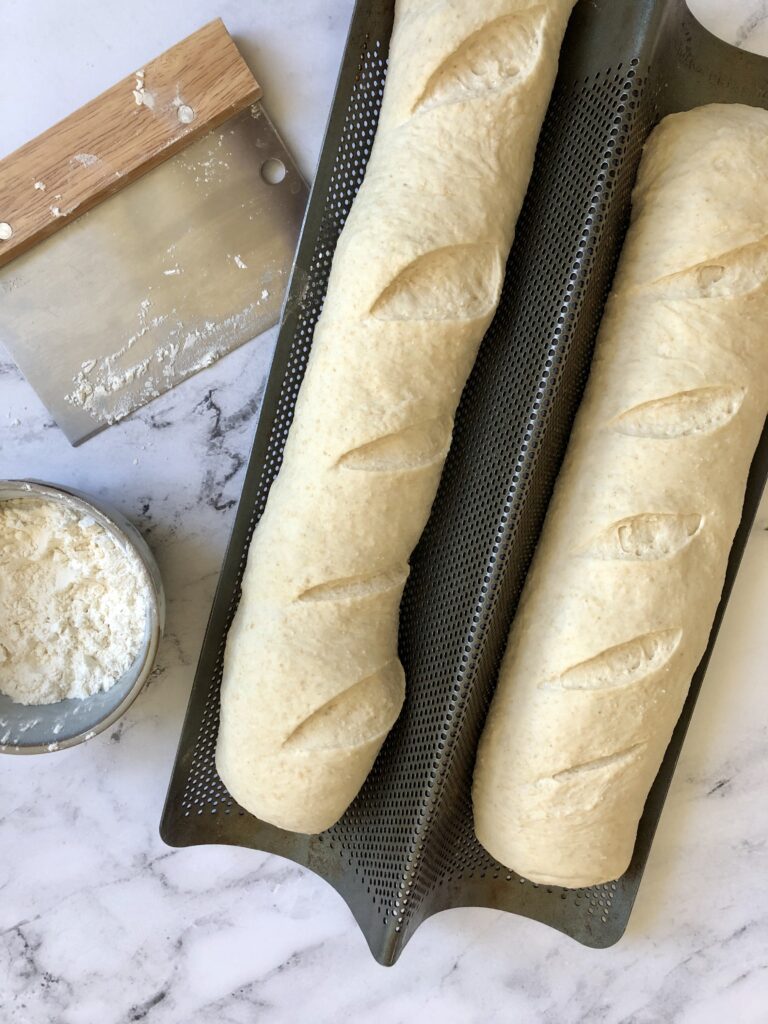 As I began baking more bread, I started investing in new pans and tools that would give me better results. One of these is the French loaf pan, also known as a channel pan. It is a great way to bake a free form loaf. It helps keep its shape and the small holes in the pan allow air to circulate, giving it a crispier crust.
I've accumulated my fair share of different kinds of pans over the years, but this French Bread Loaf Pan is one of my favorites!
If you don't yet own a French loaf pan, baking on a parchment lined baking sheet is still going to yield a great loaf. The parchment will keep it from sticking to the pan. If you're like me, you'll want to double the recipe and make two loaves! Both of them should be able to easily fit on your baking sheet together.
Baking French Bread
Use these helpful baking tips to create a crispy outer crust and tender interior crumb.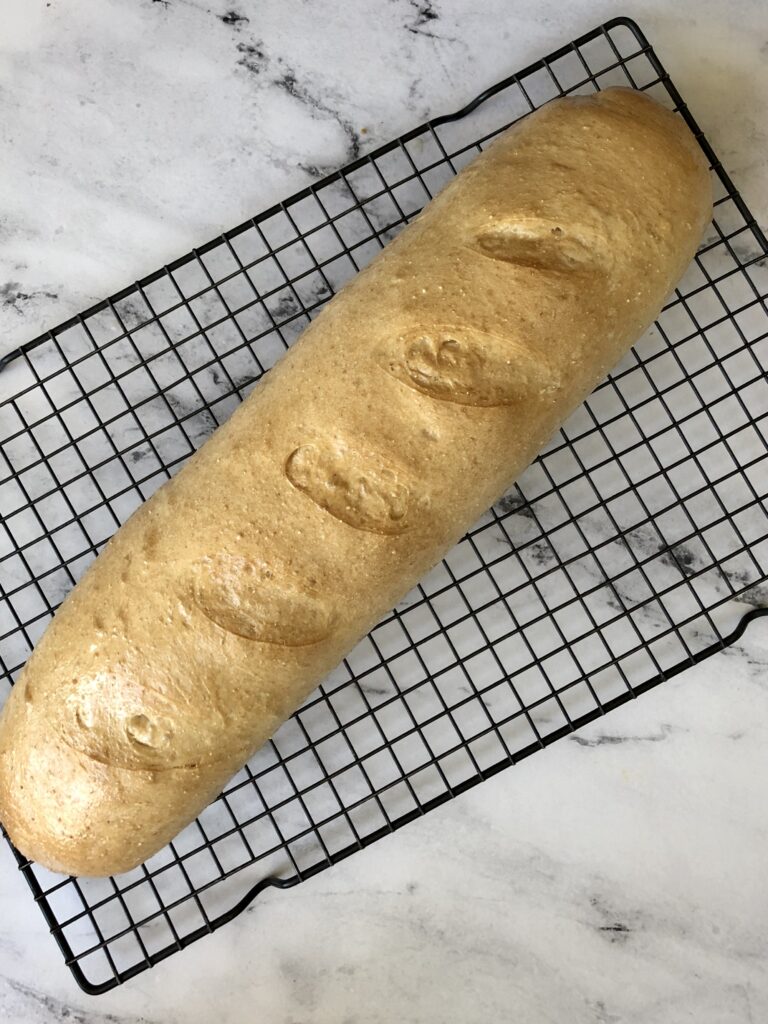 The most difficult thing about baking this bread…waiting for it cool. I know it's hard to wait, but the bread is continuing to bake inside as it is cooling. Slicing it too soon could smash the loaf and result in a doughier interior. I promise, it pays to wait!
Follow and share
Be sure to share your French Bread creation by posting on Instagram and tagging me @thatbreadly. I'd love to see how you are enjoying this recipe with your family! Follow along on my Instagram HERE.
Helpful links…
More recipes to try
(This post contains affiliate links. I only recommend products I love.)
---
Get help making my best bread recipes with my step by step videos!
Check out my Baking Academy!! Members have ALL ACCESS to my entire class library! They are prerecorded videos, showing you how to master amazing recipes from start to finish!
One of my Baking Academy Members recently boasted:
"The Baking Academy has helped me to be more confident with baking bread. In the past, I would try new recipes and often fail because I didn't quite understand all the particulars of bread making…I appreciate Heather's tutorials, zoom meetings, videos and detailed explanations of the WHY behind the techniques of bread making." -Brittny from Mesa, AZ.
Join in and bake with me!
---
Print
French Bread
This French bread is so easy to make, it's the perfect recipe for a beginner bread baker. You'll be surprised at how simple it is, but tastes like it's fresh from the bakery.
Author: Heather Thomas, That Bread Lady
Prep Time:

2 hours 15 minutes

Cook Time:

30 minutes

Total Time:

2 hours 45 minutes

Yield:

1

large French loaf

1

x
Category:

Bread

Method:

Baking

Cuisine:

French
Ingredients
Dough
1

& 1/2 cup (

341g

) warm water (110°F)

1 Tablespoon

instant yeast

2 teaspoons

salt

2 Tablespoons

sugar

2 Tablespoons

olive oil

4

–

5

cups (480-6

00g

) bread flour
Egg wash
1

egg,  plus 2 Tablespoons of water
Instructions
Make the dough: Attach the dough hook to your electric mixer. Add the water, yeast, salt, sugar, olive oil and 4 cups of the bread flour to your mixing bowl. Combine on low speed until the dough comes together in one large mass (about one minute). Stop mixer and check dough with finger. If it's excessively sticky or wet, add 1/4 cup of flour and mix until combined. Check with finger again and repeat if needed. Dough should be soft but not wet. Knead on low speed for 5 minutes. Dough should clean the sides of the bowl and form a soft ball. Let it rest in the mixer for 5 minutes after kneading.
First rise: Spray the inside of a large bowl with nonstick spray. Put the dough in the bowl and turn so all sides are coated with the spray. Cover with a clean kitchen towel and let rise until doubled in size, about 60-90 minutes.
Prepare your baking pans: If using a baking sheet, line with parchment paper. If using a french loaf pan, spray with nonstick spray. Set aside.
Shape the loaves: Sprinkle work surface with flour and turn out the dough. Take the dough ball and with your fingers, spread it out into a rectangle, about 8 inches by 15 inches. Roll the dough up lengthwise, pushing any air bubbles. Pinch the seam to the loaf to seal it shut. Put the loaf seam side down on your prepared pan. With a sharp knife, make 3-4 slashes in the dough. This will allow it to expand in the oven.
Second rise: Cover the loaf with the kitchen towel and let rise again until doubled in size, about 30-60 minutes. The second rise should be about half of the first rise time.  
Preheat oven to 375°F.
In a small bowl, crack one egg and add 2 Tablespoons of water. Whisk together and brush onto the loaf. This will give the bread a shiny, golden crust. 
Put the bread in the oven on the center rack. Before closing the oven door, put a handful of ice in a metal pan and position on the bottom rack. This will create steam in the oven, yielding a crispy outer crust. 
Bake for 25-30 minutes, until golden. When tapping on the bread, it should have a hollow sound. 
Allow bread to cool completely on a wire rack. The bread will continue to bake on the inside as it cools. Slicing when too warm may result in a doughy, smashed loaf.
Notes
There are many factors that can change the results of a yeast bread dough. Heat, humidity, altitude, flour types can all yield slightly different results. When I'm adding flour to a bread recipe, I always check my dough before adding the last cup of flour. I touch the dough with my finger and gauge how much more flour it needs. If the dough is still very sticky and wet, I add 1/4 cup flour at a time, mixing for about 30 seconds and checking again. Bread dough should be soft to the touch, but not sticking excessively to your fingers. It's always best to go lighter on flour, because you can always add more during the shaping process. Mixing in too much flour will yield a dry loaf. The more you practice, the better you'll get at knowing how the dough should feel.
I've made this bread substituting two of the cups of flour for wheat flour. This gives it a great flavor and adds extra nutrition!
Make bread bowls by dividing the dough into 4 equal pieces. Round them out into smooth round dough balls. Put them on a baking sheet lined with parchment or sprayed with nonstick spray. Make a small slash with a sharp knife on the top of the bread ball. Follow recipe steps 5-10. To serve, cut off tops and hallow out the middle, making a bowl shape. Fill with your favorite soup. See my post for making pumpkin bread bowls!