These biscuits are full of layers of buttery, flaky goodness! They're so quick and easy to make! No mixer needed!
Biscuits are perfect for when you want some bread to go along with your meal but are short on time. They are like a dinner roll, but have more of a dense and rich crumb. Even though these biscuits don't require using yeast, the ingredients we use here will make them bake up big and fluffy!
My tips for making Buttermilk Biscuits
Use cold fat: Using cold butter is key to getting airy, flaky biscuits. The butter will release steam as it melts, creating air pockets which give the biscuits a nice rise. I put my butter in the freezer about an hour before using.
Don't over mix: handling this dough too much will result in tough, dense biscuits. It will melt the cold butter and prevent it from creating those precious air pockets.
Don't twist your biscuit cutter when cutting the dough. It creates a seal along the edges of the biscuit, which prevents that butter from releasing air. This will inhibit the biscuits from rising to their full potential.
I love making these biscuits as a last minute addition to a meal! They're a quick and easy treat and can be made by hand, so you don't have to worry about getting your mixer out!
Combine the dry ingredients and butter together and use a pastry blender to get a coarse crumb mixture. These little bits of butter are going to create some big lift in the oven! You can also use the backs of two forks to cut the butter into the flour mixture.
Add the buttermilk and stir it in. It won't all come completely together in the bowl. You'll need to turn it out onto the counter and work some dry bits in with your hands. Be sure to handle the dough as little as possible. You want to prevent that butter from melting!
This is where that frozen butter comes in really handy! When starting with frozen butter, it will be more likely to stay cold while it's being handling during the mixing process.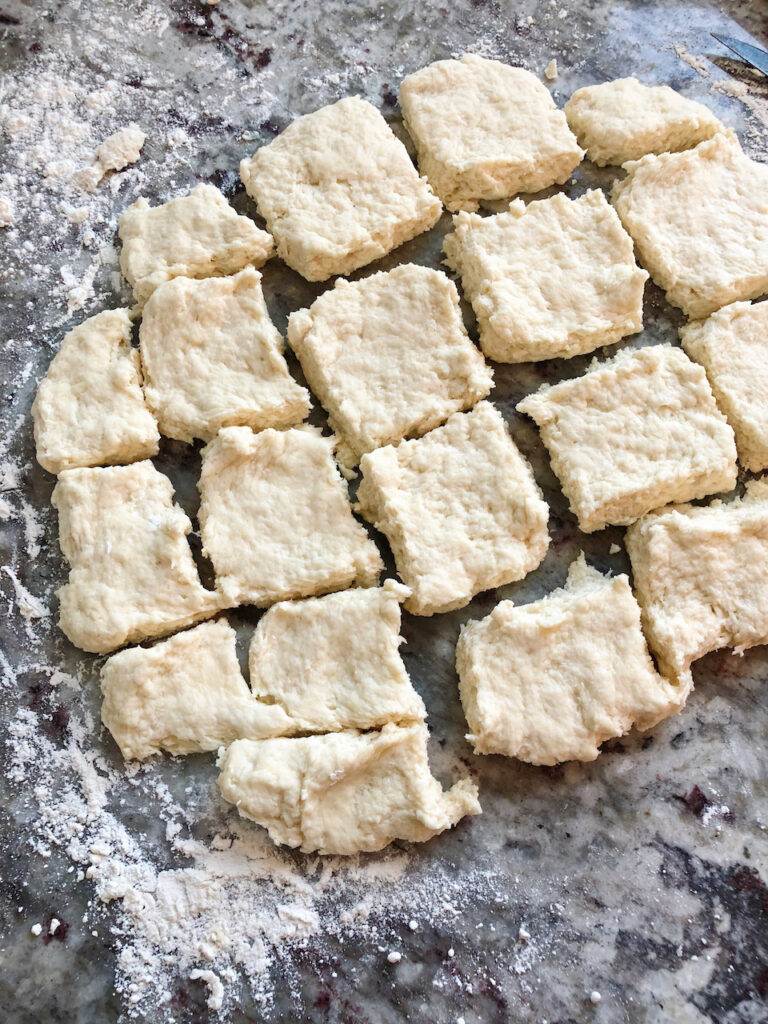 When cutting out your biscuits, don't twist your biscuit cutter. This will inhibit the rise of your biscuits. Sometimes, when I'm in a hurry, I cut my biscuits into squares with a knife. This is the quickest way to cut them out, because you get them all done in one shot without having to re-roll the dough scraps.
Serve these biscuits hot out of the oven! They are rich, buttery, flaky and tender! You're going to love them!
Some helpful links…
(this post may contain affiliate links)
Print
Buttermilk Biscuits
These buttery, flaky biscuits are a quick and simple to bake! Mix them easily by hand! They bake up so fluffy and taste amazing hot out of the oven!
Ingredients
3 cups

all purpose flour

2 Tablespoons

sugar

1 Tablespoon

& 1 teaspoon baking powder

1

& 1/2 teaspoon salt

3/4 cup

frozen butter, cubed

1 cup

buttermilk*
Instructions
Preheat oven to 450°F.
In a large bowl, combine the flour, sugar, baking powder and salt.
Add the cubed butter and cut into the flour mixture with a pastry blender or with the backs of two forks until mixture resembles coarse crumbs.
Add the buttermilk and stir just until the liquid is absorbed and it forms a soft dough. 
Turn the dough out onto the counter and work all the dry bits into the dough with your hands until it becomes one cohesive ball of dough. Try to handle as little as possible. 
Flour the counter and roll dough out to a square, about 1/2 inch thickness. Fold one third in towards the center and fold the other third over that…just like folding a letter into thirds. Rotate a quarter turn, roll out and fold into thirds again. Repeat one more time.
Roll dough out to one inch in thickness. Cut with a round biscuit cutter – do not twist (this will inhibit the rise of the biscuit). Re roll the scraps and cut out more biscuits until all the dough is used up. *To save time, cut into squares with a knife. 
Place an inch apart on a baking sheet either lined with parchment or sprayed with nonstick spray.
Bake for 12-15 minutes or until the edges are slightly golden.
Serve warm.
Notes
Add mix ins for different variations…like shredded cheese, jalapeño or green chiles. Mix them in when you turn the dough out of the bowl and work them into the dough. Get creative with your mix ins!
*Substitute buttermilk by using 2% milk mixed with 1 Tablespoon vinegar.
Bread flour works great in this recipe too. Use same measurements.