These super rich scones are flaky like a biscuit but have a sweet, tender crumb. They're bursting with juicy blueberries and topped with a fresh lemon zest glaze! These yummy scones are perfect for a special breakfast or brunch!
These Blueberry Scones with Lemon Glaze have been my go-to item for a brunch themed bridal or baby shower! They plate beautifully and are always a guest favorite. I always serve them alongside my homemade Lemon Curd – a dollop of that lemon goodness on every bite is just about the best thing in the world!
Scones can sometimes get a bad rap and are often thought of as being dry and bland. Push that misconception aside, because these scones have a nice flaky crust on the outside and a moist, tender crumb on the inside. The lemon zest and juicy blueberries add an amazing burst of flavor! We're using a few key ingredients that will make these scones absolutely delicious and just the right texture!
I used my Buttermilk Biscuit recipe as a guide for my scone recipe. I wanted that same flaky richness for these scones and I think this recipe nails it! They both have buttermilk and use chilled butter, but I added egg and more sugar to the scone recipe. These additions make the dough sweeter and give it more structure to hold up to the blueberries.
Ingredients that make these scones delicious
Chilled butter creates air pockets and flaky texture.
Buttermilk creates a tender crumb and a slight tang that compliments the sweetness of the berries and glaze.
Eggs are a binding agent, creating structure and fluff.
Lemon zest gives it a fresh flavor and compliments the blueberries!
Lemon glaze will add sweetness and extra lemon flavor to these delicious scones!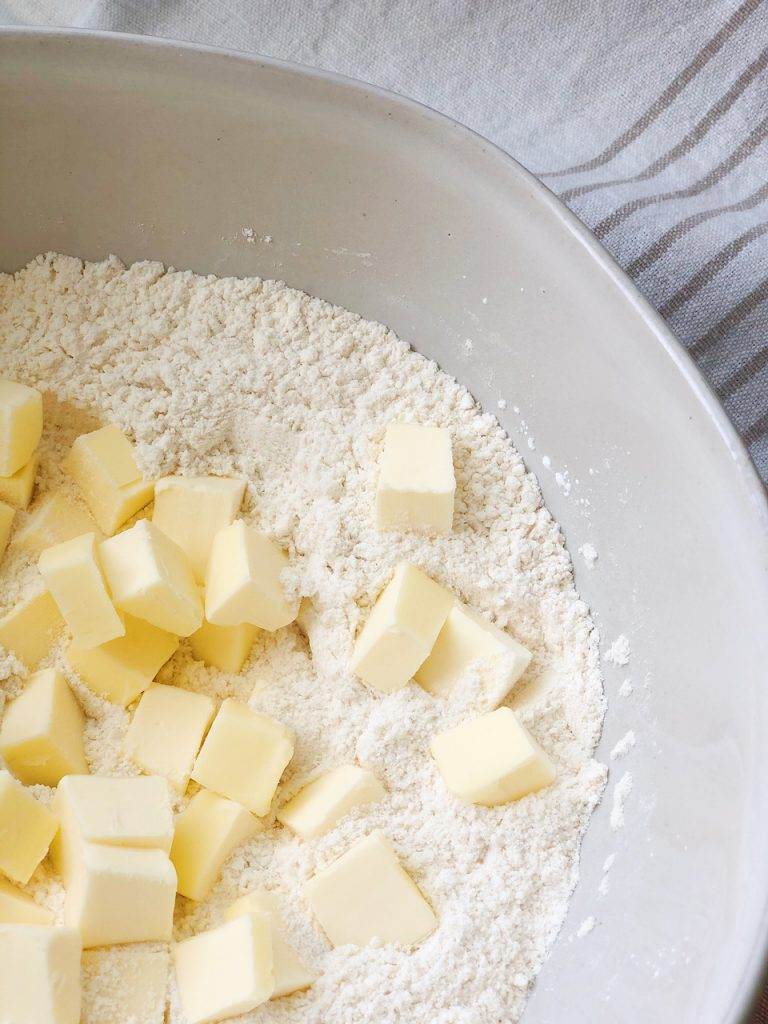 The butter is key to giving these scones a rich flavor and flaky texture! Butter creates air pockets in the dough, when baked in the oven…giving it a flaky texture. If the butter is cold when it goes into the oven, it will create those important air pockets. If the butter gets too soft while mixing, it will sort of disappear into the dough. When I need to use chilled butter in a recipe, I like to cube it first and then put it in the freezer for a few minutes. This ensures that my butter stays cold and will create that wonderful flakiness!
Steps to make these scones
I start this recipe with cubing my butter and letting it chill while I'm preparing the rest of my ingredients.
The steps to make these blueberry scones are so simple!
Cube and chill the butter
Mix together the dry ingredients
Mix together the wet ingredients
Cut the chilled butter into the flour
Add the wet ingredients and mix
Fold in the blueberries
Turn the dough out onto the counter to continue mixing by hand
Cut out scones and bake
Top with lemon glaze
Enjoy!
This dough will feel dry when you're mixing it, but will come together nicely when you turn it onto the counter and work it some more with your hands. Within just a minute of pressing and slightly kneading the dough, it should come together in one cohesive dough ball. It's important to not over handle the dough – this could melt that all-important chilled butter!
Key tip for mixing
Since mixing these scones requires some work with your hands, using frozen blueberries will help to keep the blueberries from getting smashed and "bleeding" berry juices into the dough. You can definitely still use fresh blueberries – I've just found this process a whole lot easier when using frozen blueberries.
Press the dough into a small disc and using a rolling pin, roll it out into a circle a bout 10 inches in diameter and 1 inch thick. Be sure to be gentle to avoid smashing those juicy blueberries!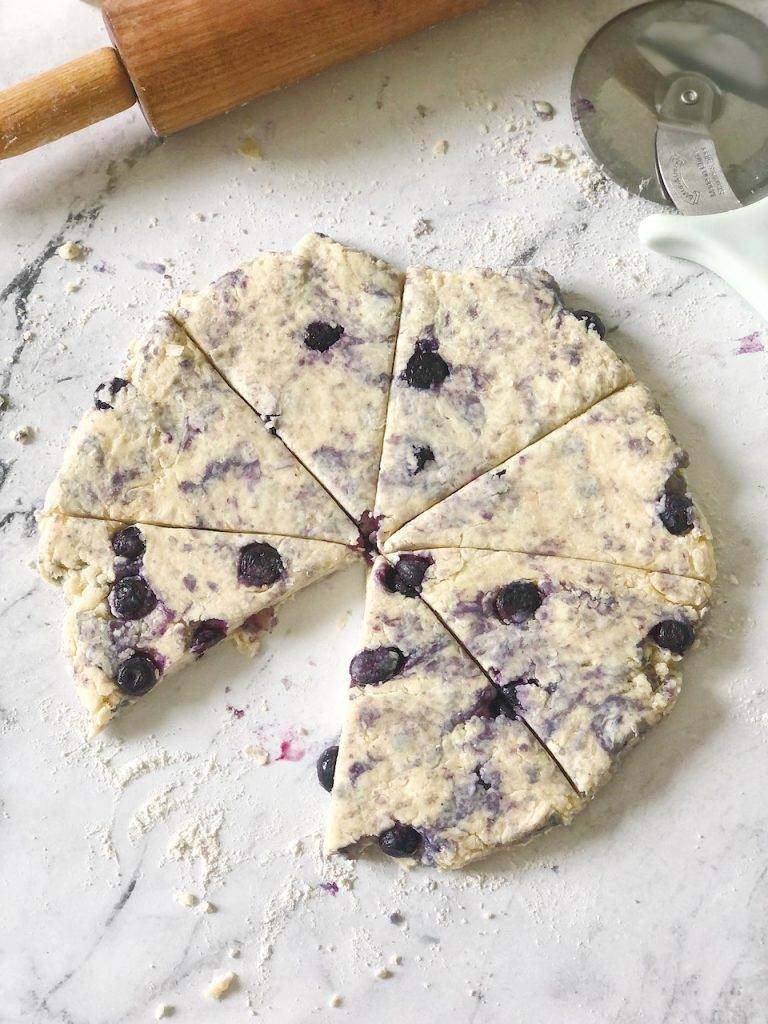 Cut out the scones into wedges. You can adjust the size here, but my recipe will make one dozen good sized scones. Bake until golden brown. The edges brown up so beautifully! Allow them to cool on the pan for 10 minutes before transferring to a wire rack to cool completely. The bottoms will be very buttery and golden – allowing the air to circulate underneath will help them stay flaky instead of getting soggy.
The lemon glaze is the crowning glory to this sweet biscuit! When whisking together the ingredients, go for a thicker consistency to get a glaze that sets up nicely and creates amazing flavor! Glazes that are too runny seem to soak into the bread instead of setting and hardening. If your glaze soaks in, you lose the effect of the flavor you're looking for. Thicker glazes almost always are the best way to glaze your baked treats!
This scone recipe could easily be switched up with a different berry! Raspberries or blackberries would be so mazing with this lemon glaze! And of course, promise me you'll pair it up with my decadent Lemon Curd! It is just too good not to try!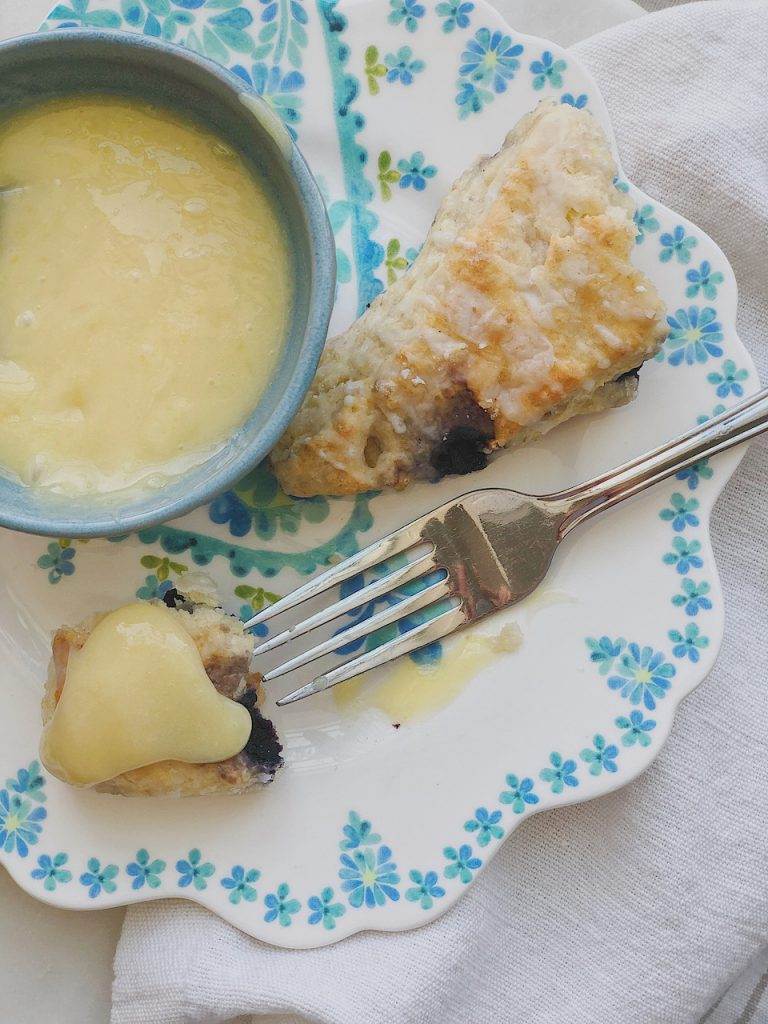 Enjoy these Blueberry Scones with Lemon Glaze fresh! While you definitely can save leftovers for the next day, they are just the best when enjoyed the same day as baked! IF I perhaps have any left over, I like to store them uncovered to keep them nice and flaky. You could even get them all made the night before, store in the refrigerator and bake the next morning . You'll love them so much more when you eat them freshly baked!
More recipes to try…
---
Need extra help with your bread game?
Check out my Baking Academy – my monthly membership that gives you access to ALL of my virtual, pre-recorded baking classes!! Learn the techniques that will give you amazing results as I show you how to make challenging recipes easier, from start to finish! Go HERE to learn more!!
---
Print
Blueberry Scones with Lemon Glaze
These super rich scones are flaky like a biscuit but have a sweet, tender crumb. They're bursting with juicy blueberries and topped with a fresh lemon zest glaze! These yummy scones are perfect for a special breakfast or brunch!
Ingredients
3 cups

(

360g

) all purpose flour

1/2

(98g) cup granulated sugar

1 Tablespoon

plus 1 teaspoon baking powder

1 teaspoon

salt

3/4 cup

(

85g

) unsalted butter, cubed and chilled

1 cup

(

227g

) buttermilk

1

egg
the zest of one lemon, divided

1

heaping cup (

170g

) frozen or fresh blueberries (see note)

1

& 1/2 cup (

170g

) powdered sugar

4

–

5

Tablespoons milk
Instructions
Cube butter and place in freezer while preparing the rest of the ingredients. Keep in freezer no longer than 20 minutes. You want the butter to be chilled but not frozen. 
In a medium bowl, combine the flour, granulated sugar, baking powder and salt. Set aside.
In a separate bowl, whisk together the buttermilk, egg and half of the lemon zest. Set aside.
Remove the butter from the freezer and add to the flour mixture. Using a pastry blender or two forks, cut the butter into the flour mixture until it resembles coarse crumbs. 
Add the wet ingredients to the dry ingredients and combine with a wooden spoon or rubber spatula. Dough will be dry and a bit crumbly, but add a bit more buttermilk if needed. Most of the flour should be absorbed – you will be working the dough more on the countertop so don't worry if it's not completely combined. 
Fold in the blueberries, being careful not to smash them.
Turn the dough out onto a work surface. Gently press and knead dough together until it comes together in one mass. Flour the surface underneath and roll dough into a circle, about 10 inches in diameter and 1 inch thick.
Cut scones into 12 wedges.
Place on baking sheet lined with parchment about 1 inch apart. Place in refrigerator while preheating the oven to 400°F.
Once oven is preheated, remove baking sheet from refrigerator and bake for 20-22 minutes or until edges are golden brown.
Leave scones to cool on the baking sheet for 10 minutes before completely cooling on a wire rack. 
While scones are cooling, make the lemon glaze by whisking together the powdered sugar, 4 Tablespoons of milk and the other half of the lemon zest. A thicker glaze will set up better – only use enough milk to be able to drizzle the glaze. 
Once scones have completely cooled, drizzle with lemon glaze and let set for about 10 minutes. 
Scones are best served fresh.
Notes
Using frozen blueberries make these scones easier to mix up without the blueberries getting smashed. Be sure to not let the frozen blueberries defrost before mixing. Using fresh blueberries will also work, but be careful when folding them into the dough.
Store scones uncovered. This will keep them flaky. They are best when eaten fresh, and within the first day. 
Refrigerate unbaked scones up to 24 hours and bake when ready to enjoy.
Serve with my homemade Lemon Curd for the ultimate flavor!