If you love cinnamon rolls, you'll love creating this one giant sweet roll. It's so big, you'll have to bake it in a pie tin! I'll show you exactly how to adjust this recipe to achieve jumbo status! Make the dough the night before, roll it out and bake first thing in the morning -…
Exclusive Cookie Recipe!
and all the recipes and tips to become a baking pro!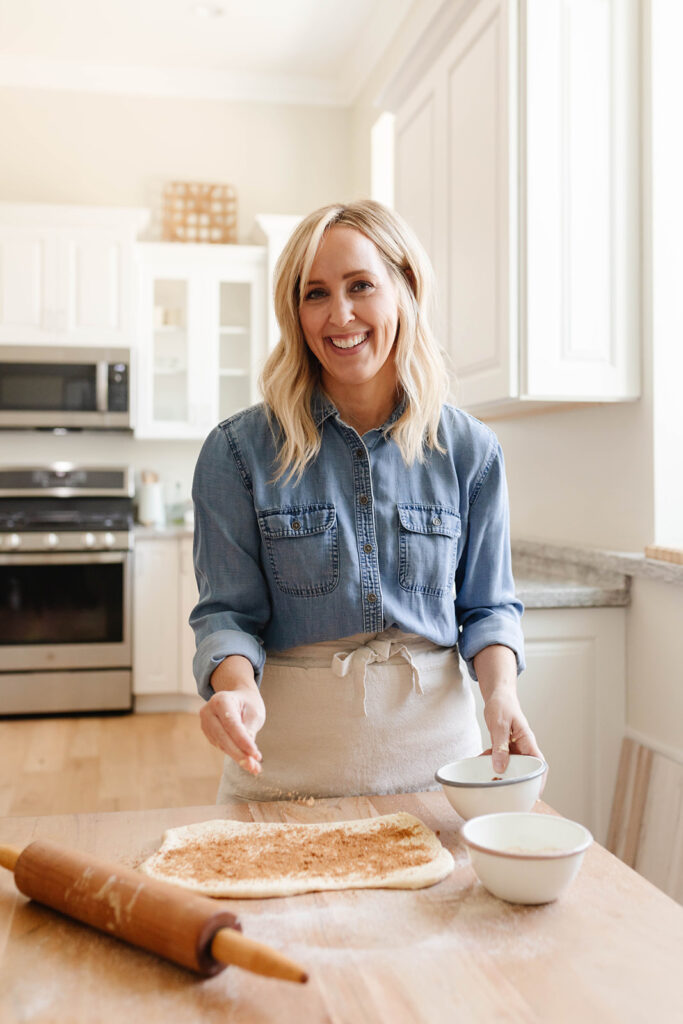 That Bread Lady
Hi! I'm Heather, That Bread Lady. I'm a mom of five and self taught baker. I absolutely live to share yummy things with the people I love.
Because of my love for baking, I started a home bakery in 2010, baking whole wheat bread to share with my neighbors. Word spread quickly and I became known as the neighborhood bread lady…hence the name of my business! Things quickly took off and soon I was baking not just breads, but all kinds of yummy treats.
I've been featured in several markets and retail stores. Through the past years of running my own bakery, I've made thousands of items for my happy customers!
Now I'm switching gears and instead of running a bakery, I'm sharing all I've learned to help YOU become the baking pro at home!
UPDATE: RETREAT IS NOW SOLD OUT! Please email me, [email protected] to be put on the waitlist. Thank you! Join me and three of my baking/cooking expert friends for my 2023, annual Baking Retreat! It's a women's weekend getaway, centered around good food and friends! Read on for all of the information you'll need to know before registration opens! What's a Baking Retreat? I love baking, learning and making new baking friends! The connections we experience through love of food is so powerful – it's such a natural way to make a new friend! My love for all of these things inspired me to organize a women's retreat centered around baking & cooking experiences. I've hosted two, highly successful retreats already!…