This 100% Whole Wheat Bread will have you guessing if it's actually ALL wheat. It's soft, satiny and has a slight sweetness. It slices up nicely for sandwiches or toast. It's the only wheat bread recipe you'll ever need!
This recipe is near and dear to my heart. This is the first bread I started selling when I began my baking business in 2010. Whole Wheat bread was my specialty and as my business picked up, I'd spend all night long baking hundreds of these super fluffy, yummy loaves of bread!
I think every baker needs a good wheat bread recipe as their go-to. This is that recipe! Because of the ingredients we're using, this bread won't have a heavy, bitter wheat flavor like some whole wheat recipes can have. We're using 100% wheat flour, but you'll see that anyone you share it with, won't believe that it's ALL wheat!
Are you new to bread making?
If you are new to bread making and are looking for some help getting started, my Whole Wheat Bread Class would be really beneficial for you! You can go HERE to find out more about how to take this virtual class. My classes are pre-recorded and show you the process from start to finish – which you can do on your own schedule! I explain lots of the why's and how's behind this recipe. I also provide links to find my favorite ingredients to get the best results when making this recipe!
If you're a visual learner, this class will help you so much in successfully making homemade bread! I will show you how the dough should be looking at every stage and how to shape beautiful loaves!
If you'd like to take more than one class, get the biggest bang for your buck and join my Baking Academy! You'll have access to ALL of my classes! Go HERE to find out how!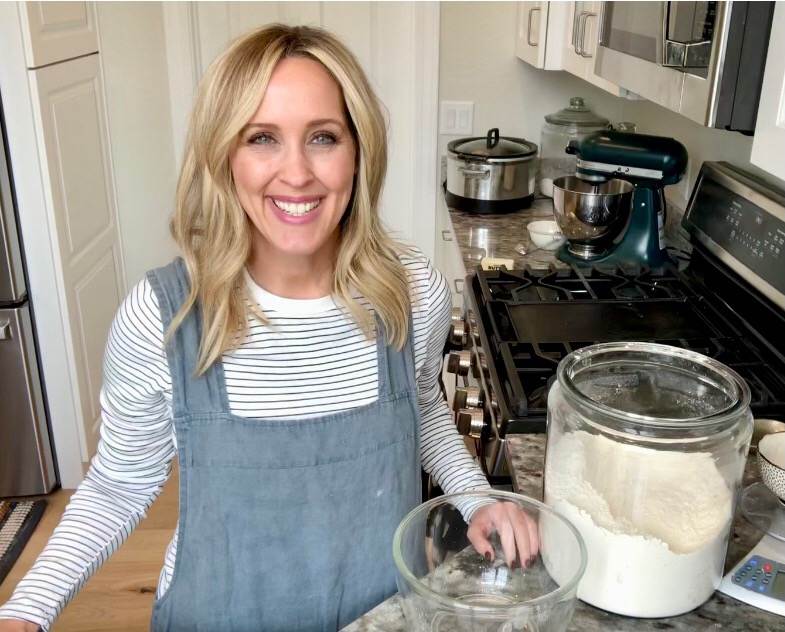 My number one tip for this recipe…
Using freshly ground wheat makes this bread extra delicious! It really does make a difference! Whenever you can mill your own flour, you're getting ALL of the nutrients from the entire grain – mega health benefits! Freshly ground wheat flour also makes your baked goods taste so much better!!
Bread making is definitely a labor of love, but it's worth the time! To make your baking experience the best it can be, there are a couple of pieces of equipment that will make your life much easier AND will help you to get better results!
If you are wanting to really dive into the world of bread making, I'd really suggest investing in a flour mill and a Bosch mixer. Let me give you a quick overview about each of these:
Go HERE to get my most favorite flour mill!
If you want a reliable, quality flour mill, I recommend this Nutrimill Classic Mill. I've have mine for years and love it! It's the only one I've used or needed. This electric flour mill has a 20-cup capacity and can grind large amounts of wheat flour – saving you time!
Find my short video about HOW TO mill your own flour HERE.
This recipe is designed for a larger mixer. If you have a Bosch Universal Plus, this recipe will work perfectly! If you have a smaller mixer, be sure to half this recipe. Don't overload your mixer! I really prefer to use my Bosch Universal Plus mixer for making heavy bread doughs like Whole Wheat.
My favorite mixer for breads is the Bosch Universal Plus mixer.
These high capacity mixers have been known to last a lifetime…not just a mixer's lifetime, YOUR lifetime! I know people that have had theirs for 30 years!
I love this mixer because it has a large capacity bowl and powerful motor! It can hold large amounts of bread dough…especially a heavier dough like Whole Wheat. My bread game changed immensely the day I got my Bosch Universal Plus mixer!!
You can get one HERE. It's an investment you'll be so happy you made!
Homemade Bread is worth it!
I grew up with my Mom making homemade bread for our family. There's just something so warm and comforting about it! Making bread from scratch can be such an enjoyable experience. I learned through lots of practice and trial and error. But one thing is for certain, when you keep at it, the hard work pays off! As you practice more and more, you'll get a feel for the process and it will become a ritual you love. Your family will be especially thankful for your hard work!
More Recipes to try
Find more bread making help through my virtual baking classes
Want helpful links for ingredients and a step by step video tutorial on how to make bread from start to finish? Get my WHOLE WHEAT CLASS to get my personal help in making the best bread ever – my pre recorded video will take you through the entire recipe from start to finish!!
Get access to my entire class library for one low price! Join my BAKING ACADEMY!!
(This post contains affiliate links – I only recommend products I LOVE and know will make your time in the kitchen easier!)
Follow & Share
Follow me on Instagram @thatbreadlady and tag me whenever you make one of my favorite recipes! I love sharing what you're making for your family!
Follow me on Pinterest! @ThatBreadLadyHT . I love sharing with other creators!
Print
Whole Wheat Bread
This 100% Whole Wheat Bread will have you seriously guessing if it's actually all wheat. It's soft, satiny and has a slight sweetness. It slices up nicely for sandwiches or toast. It's the only wheat bread recipe you'll ever need!
Ingredients
6 cups

(

1362g

) lukewarm water (110°F)

1/2 cup

(

56g

) nonfat powdered milk

1/2 cup

(

144g

) vital wheat gluten

1/3 cup

(

39g

) dry lecithin granules

4 Tablespoons

instant yeast

3/4 cup

(

125g

) olive oil

1 cup

(

340g

) honey

3

(54g) Tablespoons salt

14

–

16

cups wheat flour* (

one cup

weighs

113g

)

1/4 cup

vegetable shortening (for brushing on tops of baked loaves)
Instructions
*If you are milling your own wheat flour, grind it at least 2 hours before using. It needs time to cool down and settle a bit. I prefer to use Hard White Wheat – it has a sweeter and softer texture than red wheats. 
In a large measuring cup, measure the lukewarm water. To this bowl, add the powdered milk, vital wheat gluten, lecithin granules and yeast. Whisk them together with the water to help them get dissolved. Pour into the bowl of an electric mixer.
Add the honey, oil and 8 cups (904g) of wheat flour. Mix on low speed for 30 seconds until incorporated. It should resemble pancake batter. Allow it to sit and sponge up until doubled in size. This will take about 15-30 minutes. Keep an eye on it – it can easily spill over the sides of the bowl.
After the mixture has doubled in size, add the salt and mix on low as you start adding an additional 6 cups (678g) of the remaining flour, one cup at a time. As you near the end of the remaining flour, look for the dough to clean the sides of the bowl. Once it is cleaning the sides of the bowl, stop the mixer and touch the dough with your finger. It should feel soft and tacky, but not overly wet or sticky. If it is excessively wet and sticky, add more flour, one half a cup at a time. Each batch is different…sometimes you'll use all the flour and other times you'll have some leftover. Just go by how the dough looks and feels. 
Once you have enough flour in your dough, knead on low speed for 5 minutes. 
Turn dough onto floured surface and let rest for 10 minutes, allowing the gluten to relax. Divide the dough and shape into loaves. Places loaves in greased bread pans. Cover and let rise until doubled in size. A bread pan that is 4×8″ will hold a loaf that is about 21-23 ounces. This recipe will make about 6, 23-ounce loaves.
Preheat oven to 350°F. Bake loaves for 30-35 minutes. Tops should be golden brown. 
After removing from oven, brush the tops of the loaves with vegetable shortening. This will give the crust a pretty sheen and it make it softer. 
Allow the loaves to cool in the pans for 10 minutes before removing and cooling completely on a wire rack. Allow the loaves to cool completely before slicing – they are still baking internally right after they come out of the oven. 
Store in heavy bread bags – they will stay fresh for 5-7 days. This bread freezes well!
Notes
This is a large batch of dough. It is perfect to use in a Bosch Universal Plus mixer. If you have a smaller mixer, be sure to half this recipe so that you don't overload your mixer. 
Avoid keeping your bread in the refrigerator. It will dry it out. 
Since it has fresher ingredients, homemade bread has a shorter shelf life – this is a good thing! I like to freeze loaves that I have pre-sliced and pull them out as needed. 
Using freshly ground wheat flour gives this bread the best flavor and nutrients!