A ribbon of cinnamon and brown sugar elevates this already delicious, satiny homemade bread. This yeasted loaf rises to perfection and slices up beautifully. Your family will love this homemade cinnamon swirl bread recipe!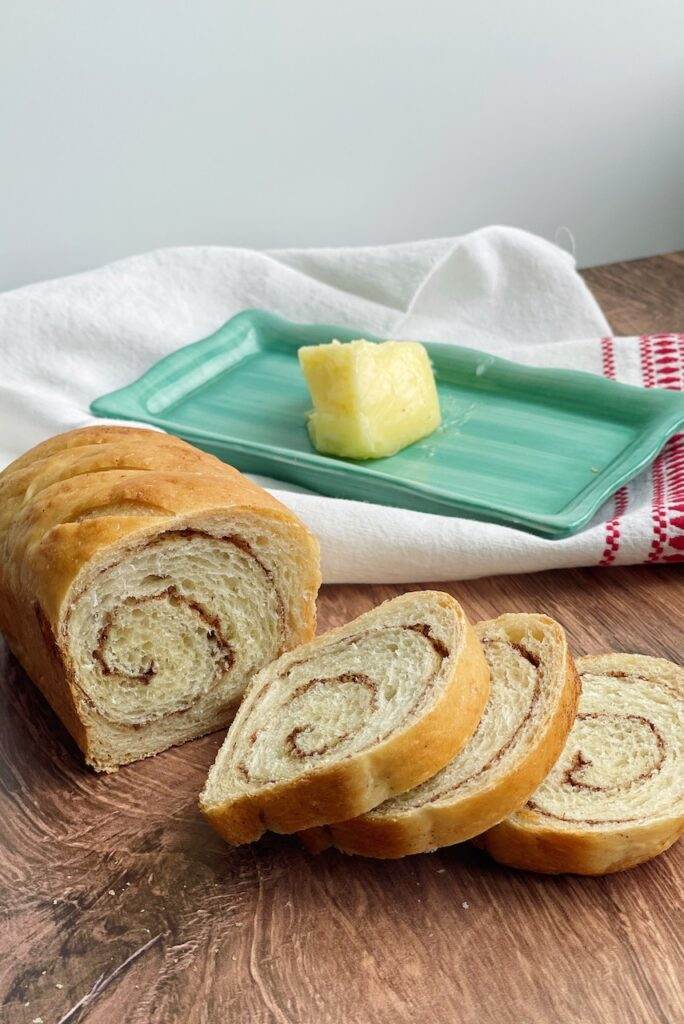 This is one of our family's most favorite breads of all time! It's like the loaf version of cinnamon rolls. We enjoy it in so many ways – toast and butter it, use it to make the best French Toast or sometimes we add apple chunks to the swirl for an even more amazing bread experience! However you enjoy it, you'll be in cinnamon bread heaven!
Working with yeast
Working with yeast can be intimidating at first, but the more you do it, the more comfortable you will get! Yeast is a living organism that just needs the right conditions to thrive. It feeds off of sugar and starches. When it feeds, it releases carbon dioxide gas in the form of air bubbles in the dough. This process is also known as "fermentation". This is what gives bread dough its volume and airy texture.
Since yeast is a living organism, it needs the proper environment to stay alive and feed. If you are using a commercial yeast like Active Dry Yeast or Instant Yeast (also known as Rapid Rise Yeast), it comes in a dry, granular form. Most likely, it's in a packet you buy at the grocery store. In this form, the yeast is in a state of inactivity. Once the yeast is mixed into dough, it "wakes up", in a sense. When it's given warm water and flour (food) it will begin that fermentation process. Using water that is too hot (130-140°F) will kill the yeast. Typically, bread recipes will call for warm water that's around 95-120°F – this gives the yeast optimal conditions to ferment. If you don't have a thermometer to check the water temperature, you can usually judge by touch. The water should feel lukewarm.
If this is your first time working with yeast and you want more information about it, check out my article about Active Dry Yeast vs. Instant Yeast. I also have a Guide to making Sourdough Starter, which is how to make a natural starter.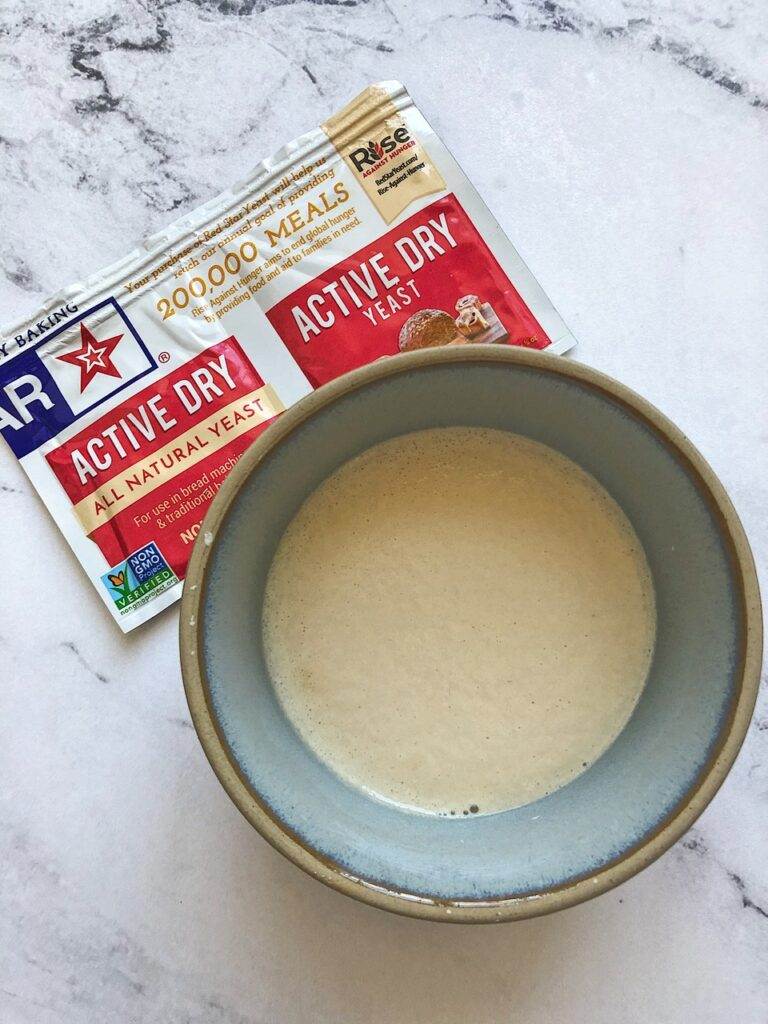 Ingredients
This cinnamon bread recipe uses my Country White Bread recipe. You can use it to make plain white bread if you just omit the cinnamon swirl. It's an amazing bread that bakes up so fluffy and tender! It's the perfect bread for a cinnamon swirl loaf!
In this bread recipe, we're using a few ingredients that will make it extra fluffy and tender.
Nonfat powdered milk: The sugars and proteins from milk help enhance the dough, encourage it to rise and gives it a more tender crumb. Using powdered milk instead of liquid milk, helps us to control the amount of liquid in the recipe.
Potato flakes: Potato starches attract and hold water, giving your bread a more moist texture. It also helps to extend the shelf life of your bread.
Eggs: They slightly inhibit gluten formation, making a softer loaf. Eggs also add a richer flavor to the bread.
Vegetable Oil: The oil in the dough helps to keep the water from evaporating when baking – yielding a much more soft and moist loaf.
Using ingredients like milk, eggs and oil make this bread what is often referred to as an "enriched yeast dough". All of these ingredients work together to make one amazing loaf!
Making the dough
This dough is really easy to mix up. I typically double this recipe and make it in my Bosch mixer (my number one go-to mixer for all of my bread recipes!). If you do not have a larger mixer like a Bosch, you can easily make this in a stand mixer like a KitchenAid too! If you don't have a stand mixer, you could use a hand mixer until you get to the end stages and then you would need to work in the remainder of the flour by hand.
About an hour before mixing, take out your eggs and let them come to room temperature.
Weigh and measure out all of your ingredients ahead of time and have them all at your fingertips before you start mixing. This helps to avoid any mistakes and makes mixing go much smoother. I highly recommend weighing your liquids and flour! These two ingredients have the biggest effect on the outcome of your dough, so weighing them will give you more accurate results. The recipe has a suggested flour amount of 5-7 cups of bread flour. I recommend weighing out 7 cups and setting aside in a bowl before you start mixing.
In a large bowl, add the oil, warm water, sugar, powdered milk, potato flakes, salt and yeast. Whisk them together to get all of those ingredients incorporated really well. We're going to be using the dough hook attachment so doing this ahead of time will help these get mixed together better.
Pour that yeast mixture into the bowl of a stand mixer and add the eggs. Add half of the flour you already have weighed out. Since it has already been measured out, you can just scoop it from your bowl. Turn your mixer on low speed and let the ingredients combine into a smooth mixture.
Add additional flour as needed. You may or may not need to use the entire amount of your remaining flour. As you near the end of the remaining flour, look for the dough to clean the sides of the bowl. Once it is cleaning the sides of the bowl, stop the mixer and touch the dough with your finger. It should feel soft and tacky, but not excessively wet or sticky. When you have added enough flour, knead on low speed for 5 minutes.
Place the dough in a large bowl, greased with nonstick spray. Toss the dough to coat all of it and cover it with a towel. Place it in a warm spot of your kitchen until it doubles in size, about 60-90 minutes. This is the first rise.
Remove it from the greased bowl onto your work surface and it's now time to shape your loaves!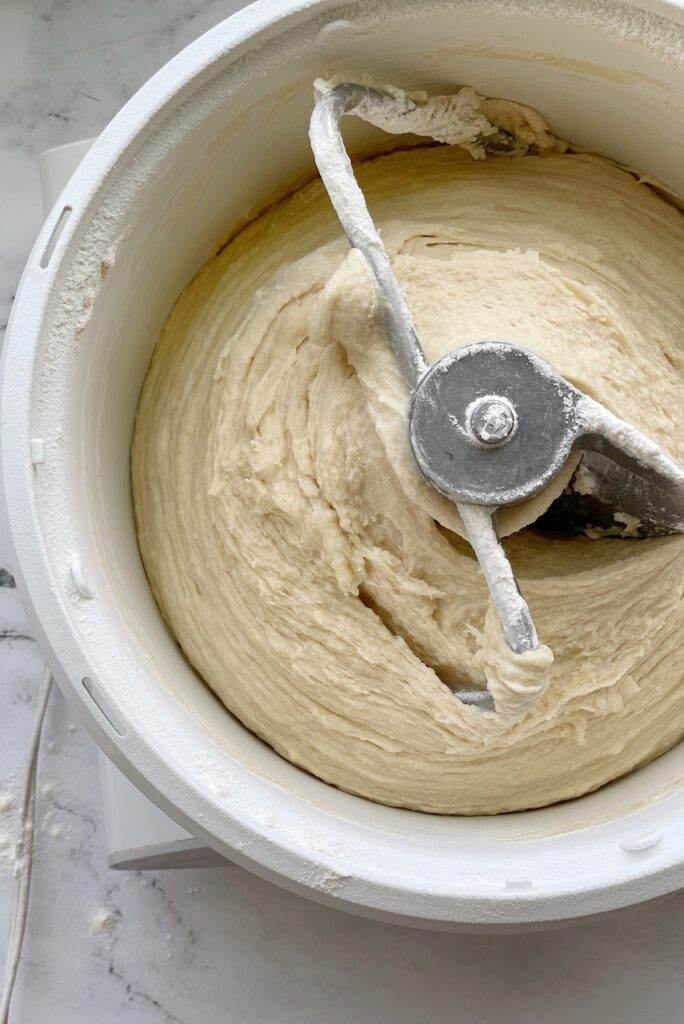 Tips for rolling up your loaf
Rolling up a cinnamon loaf is almost like rolling up cinnamon rolls. If you've never done either, not to worry! I've got you! Follow these tips to help you get a beautiful loaf that has lots of cinnamon swirl ribbons throughout.
Prepare. Get all the things ready at your fingertips. Prepare your pans ahead of time by greasing them with nonstick spray and set them aside. Prepare your cinnamon sugar mixture in a small bowl and set that aside. Get all of the tools you'll need like a rolling pin, bench knife and pastry brush.
Pre shape your loaf. Start by shaping your bread dough into an oblong shape. This will help you get a good start in rolling your dough out into a rectangle. You can just gently smooth out the edges with your hands, turning them under and pinching the dough underneath. This will give the top of your dough a smooth surface.
Start rolling out your rectangle. With the smooth side up, roll the loaf with a rolling pin to about 50% of the recommended size, flour the top of your dough and flip it over to continue to roll it out. This will help prevent the dough from sticking to your work surface, and since the smooth side of the dough is now on the bottom, it will eventually be on the top once you roll up your loaf – giving you a nice smooth surface on your loaf of bread!
Line the bread pan up with your dough as you roll it out. This will give you a guide to know how narrow you should make your rectangle. You want it just a little bit narrower than the length of your loaf pan so that when it's rolled up it fits perfectly inside the pan.
When brushing on the melted butter and sprinkling on the cinnamon sugar mixture, be sure to leave a one inch border on the end of the dough, leaving it clean so that it will easily pinch when sealing the dough.
Tighten as you roll. When you're rolling up the loaf, pull and tighten as you go. Keep the ends tucked in as well to avoid the loaf getting too wide for your pan. The more rotations you can get as you roll up, the more cinnamon sugar swirl you'll have in your loaf!
Line it up at the end. If you get to end of your roll and the remaining dough is more narrow than your loaf, gently stretch out the ends to line it up. Pull it up and pinch the seam shut with your fingers. Place it in your greased bread pan with the seam side down.
Place the loaves in a warm place in your kitchen to let the dough rise until doubled in size. This is the second rise. It should take less time than the first rise for your dough to double. Typically it should take about 45 minutes to one hour, depending on warm your kitchen is. Avoid letting them rise too much – this will cause your loaves to deflate after baked, and we don't want that!
Avoiding gaps in your cinnamon swirl bread
Occasionally you may notice that your baked loaf has gaps in the swirl. While your bread will still taste amazing, these air pockets can make it difficult to slice. Here are a few things you can try to help avoid the gap!
Roll your dough tightly. This is super important not only for creating a generous amount of cinnamon swirl in your loaf, but also prevents the dough from coming unrolled and gapping as it rises.
Use egg wash instead of melted butter. You need something for the cinnamon sugar to adhere to when rolling up your loaf. I most often don't have any problems with gapping when using melted butter, but some bakers prefer to use egg wash and say their swirl bread won't gap with it. Give it a try and see if it helps.
Mix in a stabilizer with your cinnamon sugar. My recipe suggests adding 1 Tablespoon of all purpose flour to your cinnamon sugar mixture to keep it from liquifying while the dough is rising. Sugar attracts water and while it's encased in the dough, it can liquify and run out of the dough and pool into the bottom of the bread pan. If the sugar liquifies, it could possibly leave some gaps in your loaf. Just a bit of flour added to the filling will help avoid this.
Let the loaf cool in the pan. If you remove the baked loaf from the pan immediately, it's going to lose it's shape and deflate! Leave it in the pan for about 30 minutes before removing it to cool completely on a wire rack. Likewise, don't slice it until it has cooled completely. If you can't wait, I say just dive right in and enjoy some warm cinnamon bread…just know that the loaf will get a little smashed if you slice into it before it has cooled completely – a small sacrifice, in my opinion!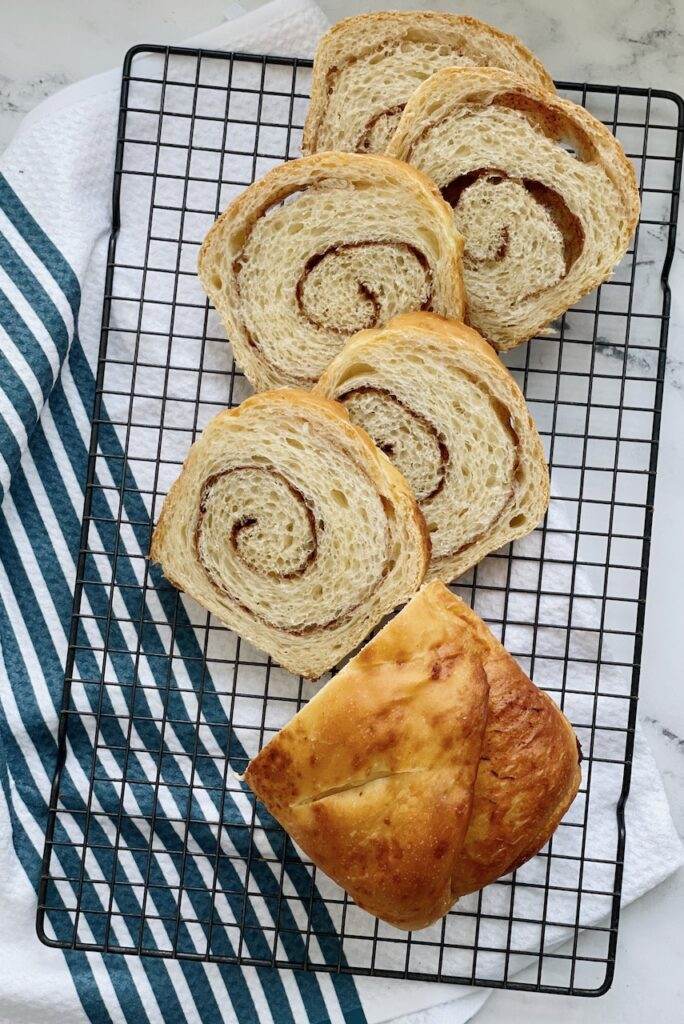 Variations
One of the best things about this bread is that there are so many different ways you can switch up a cinnamon swirl loaf. Get creative and play around with different variations, depending on the season or what you're serving it with.
Try adding 1-2 teaspoons of different seasonings like pumpkin pie spice, nutmeg, cardamon or cloves to the cinnamon-sugar mixture. Adding just a bit of a spice can create an amazing flavor that makes a huge difference!
You can also add raisins or other fruits like apple chunks. If you do add fruit, I would recommend pulsing it a bit in a blender or food processor, to prevent the chunks from being too big. If they are too big, they may cause gaps in your swirls due to the size and moisture they create.
Add finely chopped nuts. I love adding nuts with fruits as well. When sprinkled inside a ribbon of cinnamon sugar, it can create a hearty loaf that makes for the most amazing French toast!
However you decide to create it, your family is going to love this homemade cinnamon bread! With a little time and creativity, you'll have on of the yummiest treats ever to enjoy!
More recipes to try
Triple Berry French Toast Bake
(This post contains affiliate links. Good news – I only recommend products I love!)
---
Have you heard about my virtual baking classes?
If you are new to bread making, or just looking to improve your baking skills, be sure to check out my Virtual Baking Classes! They are pre-recorded videos, showing you how to complete a recipe from start to finish! Included in my Class Library is the Country White Bread Recipe – so if this recipe seems a bit daunting, my video will help you to make this yummy bread successfully!
If there's several classes you're interested in, my Baking Academy is a great option for you – you can get access to ALL of my classes for one low price!
You can go HERE to learn all about it!
---
Print
Cinnamon Swirl Bread
A ribbon of cinnamon and brown sugar elevates this already delicious, satiny homemade bread. This yeasted loaf rises to perfection and slices up beautifully. Your family will love this homemade cinnamon swirl bread recipe!
Ingredients
Bread dough:
3/4 cup

(

148g

) canola or vegetable oil

1

and 3/4 cups (

397g

) lukewarm water (110°F)

1/2 cup

(

99g

) granulated sugar

1/2 cup

(

43g

) potato flakes

1/4 cup

(

28g

) nonfat powdered milk

1 Tablespoons

 salt

2

 and 1/2 Tablespoons instant yeast

1

 large egg, room temperature

5

–

7

(600g-840g) cups of bread flour

4 Tablespoons

vegetable shortening (for brushing on the crust)
Cinnamon Sugar Mixture:
2/3 cup

(

140g

) brown sugar, packed

2 Tablespoons

ground cinnamon

1 Tablespoon

all-purpose flour
For brushing before filling:
2 Tablespoons

unsalted butter, melted
Instructions
In a large bowl, combine the oil, water, sugar, potato flakes, powdered milk, salt and yeast. Whisk together with a wire whisk, helping to get all of the ingredients dissolved and broken up. Pour mixture into the mixing bowl of your mixer.
To the mixing bowl, add the egg and 2 and 1/2 cups of bread flour. Mix for about 30 seconds, breaking up the egg and getting the ingredients incorporated. It should resemble a pancake batter. Stop the mixer and scrape the sides of the bowl.
While mixer is on low speed, add the additional flour one half cup at a time, allowing the flour to incorporate after each addition. As you near the end of the remaining flour, look for the dough to clean the sides of the bowl. Once it is cleaning the sides of the bowl, stop the mixer and touch the dough with your finger. It should feel soft and tacky but not excessively wet or sticky. If it is excessively wet and sticky, add a small amount of flour and mix. When you have added enough flour, knead on low speed for 5 minutes.
Spray the inside of a large bowl with nonstick spray. Pour the dough out into the bowl, turning to cover all sides with the spray. Cover with clean kitchen towel and allow to rise until doubled in size.
Before forming loaves, prepare bread pans by spraying all sides of the inside of the pan with nonstick spray. Get a small bowl of flour for your work surface, a food scale (optional) and a sharp tool to separate the dough balls (I suggest a bench knife).

Prepare the cinnamon sugar mixture by combining the brown sugar, cinnamon and 1 Tablespoon of flour. Cover and set aside.

Once dough has doubled in size, turn it out onto a floured work surface. Lightly sprinkle the top of the dough and fold over. Repeat until all sides are covered with flour and dough can be easily handled.
Divide dough into 2 equal dough balls. If you have a food scale, they will measure between 20-23 ounces. Sizes may vary depending on the size of your loaf pans. This recipe is based on using 8 inch loaf pans.
Pre shape the loaves into an oblong shape by turning them under and pinching them underneath, forming smooth edges.
Roll out each dough ball into a rectangle, just a bit more narrow than your bread pan. The dough should be 1/4 inch thick. Brush with melted butter, leaving a one inch clean border on the end. Sprinkle a generous amount of cinnamon sugar mixture, again leaving a one inch clean border at the end. Roll up the dough, tucking and tightening as you go and ending at the edge with the clean boarder. Gently pull up the dough over the loaf and pinch the seam closed. Place in the greased bread pans with the seam side down. Cover with a towel and let rise until doubled in size. The bread should not rise more than two inches above pan level.
Bake in a preheated 350°F oven for 30-35 minutes, or until the tops are a golden brown.
When bread comes out of the oven brush the tops with the vegetable oil, allowing it to melt and create a shiny crust. Let bread cool in the pans for 30 minutes before removing and cooling completely on a wire rack.
Let bread cool completely (3 hours or more) before slicing or bagging.
Notes
Remember it's always possible to add more flour, but you can't take it away. Always try to avoid adding too much flour. If you've added too much, your bread will be dry and dense. If your dough feels too sticky after kneading it, add a little more flour and mix for one minute. Check it again with finger touch test and either continue to the first rise or repeat with more flour if it's still too sticky.
Use a heavy, 2mil bread bag for storing. This will keep your bread fresher longer.
Freeze any extra loaves.
Refrigerating bread will dry it out. Keep on counter.
Mini loaves make a great option for gifts or if you don't go through a large loaf of bread very quickly. Make mini loaves about 8 ounces, or 3 for every large loaf in your recipe.