These waffles are so rich and fluffy! They are quick and easy to make!…Enjoying this special breakfast won't take a lot of preparation time, but it will look like you made a huge effort!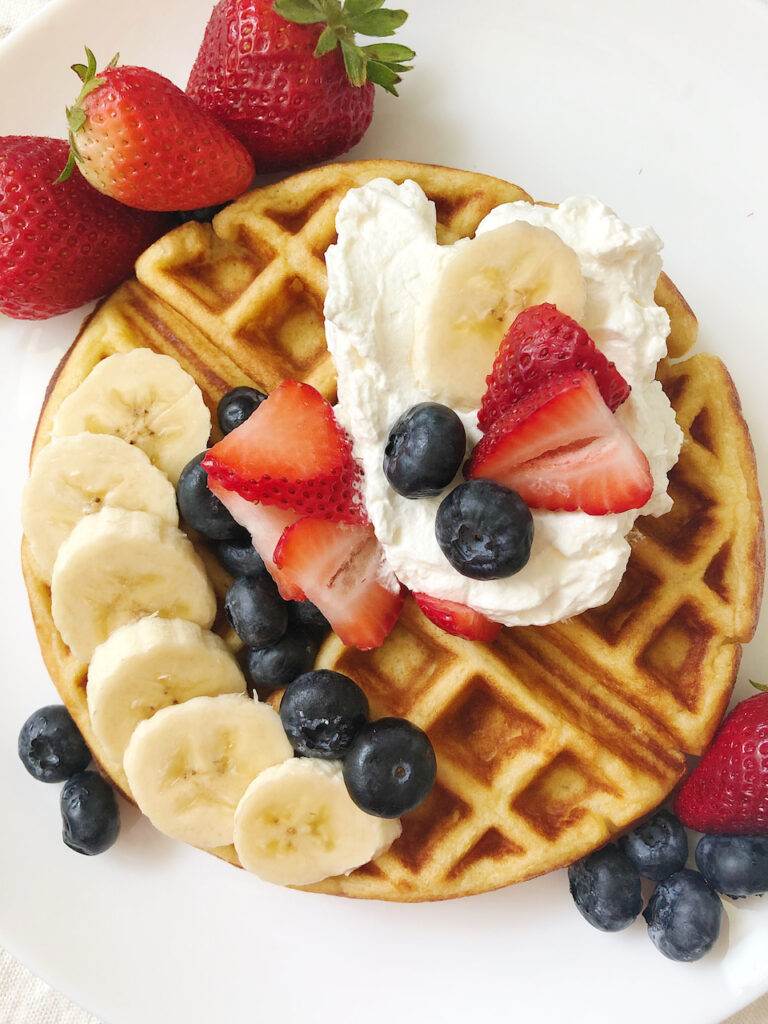 Waffles are a favorite treat in our home. My kids feel special when I make them, like a put a lot of effort into breakfast. Little do they know, these waffles take no time at all and are so easy to whip up!
We have two types of waffle eaters in our house – with chocolate chips and without chocolate chips. There is one main consensus – always whipped cream and berries! I love serving waffles with several different topping options. It encourages my kids to eat some fruit with their breakfast, and it's so fun for them to be able to get creative in making new and yummy topping combinations!
If you've had enough cold cereal or frozen toaster waffles, then this is a recipe you're going to love!
There are some differences between Belgian waffles and regular waffles. Though the differences are slight, depending on how you prepare your batter and what waffle iron you use, you could get a slightly different outcome.
Belgian Waffles vs. Regular Waffles
Belgian waffles are historically made with yeast instead of baking powder. Here, I chose to use baking powder for convenience. They will still cook up nice and fluffy!
Belgian waffles use folded in egg whites to add fluff and sponge to the batter.
Belgian waffles are made in a Belgian waffle iron…this has deeper pockets which holds more toppings like syrup.
On a side note: I have a favorite Belgian waffle iron I like to use. It's double sided, which means I can make this batch of waffles even quicker! Go to Amazon HERE for my favorite waffle iron!! It's an investment, but so worth it!! Watch for a good price. I've seen it go up and down periodically. I purchased mine for about $60.
My tips for this recipe
Don't skip on separating the eggs and beating the egg whites. This will add that fluffy texture that we all love from waffles! Be sure to gently fold those egg whites in, not overmixing!
Use different flour types to achieve different flavors. I love to make batches with different flour types like half all purpose flour and half whole wheat flour. I've also used all Kamut flour. You will get slightly different flavors from switching out flours and your family will develop their favorites!
When making waffles that contain mix-ins like chocolate chips or blueberries, pour in half the batter to your waffle iron, sprinkle on the mix-in and cover with the second half of the batter. Smooth it out over the waffle iron and continue to cook as usual. This keeps the mix-in from just getting pressed into the outer crust of the waffle and you'll get more of the flavor you're looking for with it.
Having options with your waffles is what I think makes them such a universally loved meal! I've had many occasions where I served a waffle bar and it's always a favorite!
Some of our favorite items for a waffle bar are…
Nutella
Strawberries
Whipped cream
Bananas
Blueberries
Buttermilk syrup
Maple syrup
Bacon crumbles
Granola
Jam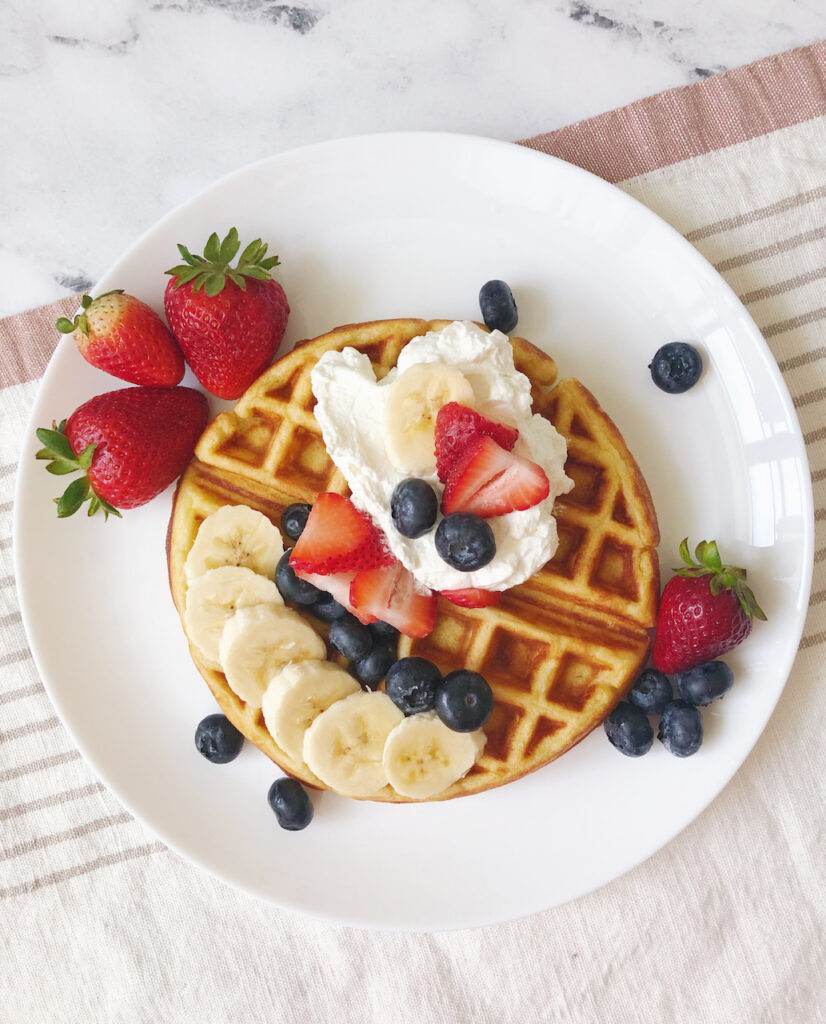 Honestly the possibilities are endless! Find your family's favorite combinations. Serve for breakfast, lunch or dinner and you'll get happy reviews each and every time!
Print
Easy Belgian Waffles
These waffles cook up crispy on the outside and fluffy on the inside. They are a quick and easy treat that will make it look like you put in a lot of effort!
Ingredients
2 cups

(

240g

) all purpose flour

2 Tablespoons

sugar

2 teaspoons

baking powder

1 teaspoon

baking soda

1/2 teaspoon

salt

2 cups

buttermilk

1/2 cup

unsalted butter, melted

2

large eggs, separated
nonstick spray for waffle iron
Instructions
Heat waffle iron while mixing batter.
In a medium bowl, whisk together flour, sugar, baking powder, baking soda and salt. Set aside.
In a separate medium bowl, whisk together buttermilk, melted butter and egg yolks. Add to the dry ingredients and stir until combined. Batter will be on the thicker side, but will fluff up after adding egg whites. If the batter is extremely thick, add a bit more buttermilk to thin it out. 
In a small bowl, using an electric mixer, beat egg whites until soft peaks form, about 1-2 minutes. 
Gently fold the egg whites into the batter until just combined.
Spray waffle iron with nonstick spray. Pour batter into waffle iron and cook according to your waffle iron specifications.
Serve hot with favorite toppings. 
Notes
Use your favorite types of flour to change up the flavor a bit. To use all Kamut flour, use 205g of flour (slightly less than two full cups). Another favorite flour combination is to use half all purpose flour and half whole wheat flour (Use one cup, 120g of each).
Before adding beaten egg whites, if batter is too thick to stir with ease, add 1-2 Tablespoons of buttermilk to thin. Note that the batter will thin a bit and have a fluffier texture after adding the beaten egg whites.
If you don't have buttermilk, you can add 1 Tablespoon of vinegar to 1 cup of 2% or whole milk. Allow it to sit 5 minutes before using.