These rolls are the perfect balance of sweet and tart! A sweet cream cheese filling balances the tart flavor from the fresh raspberries. All wrapped up in delicious buttery brioche, top these rolls with a lemon glaze for the perfect raspberry treat!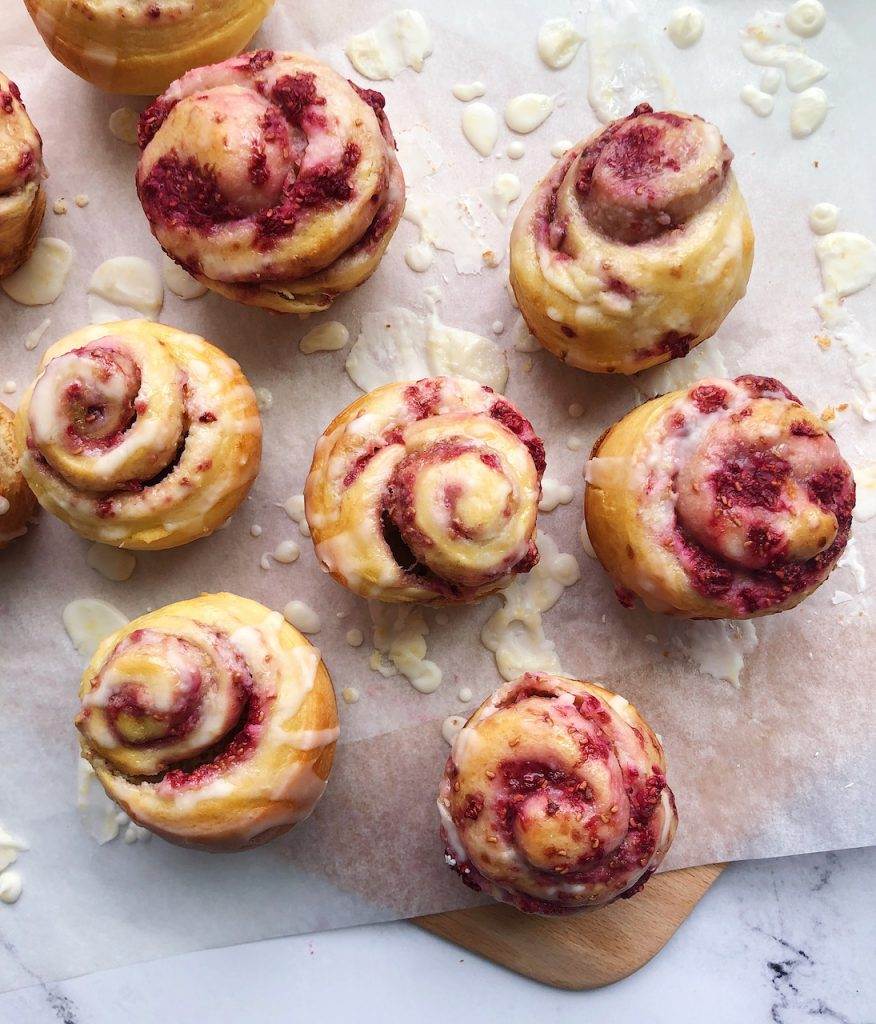 I love using my Brioche dough for so many different things! It's such a rich, buttery dough that is very versatile AND so delicious! Brioche is a specialty dough that takes some patience to make, but is well worth the pay off! Find my Brioche recipe HERE. It's also a recipe I have created a class for in my Baking Academy – get my pre-recorded, step by step video tutorial on how to make Brioche perfectly from start to finish!!
Brioche is the perfect dough to use for these rolls! It's flaky and buttery, almost pastry-like! Storing these rolls uncovered, only adds to that delicious flaky texture!
Making this recipe:
Prepare the Brioche dough and chill overnight – it's easier to work with when cold
Roll out dough and spread on that delicious cream cheese mixture and those juicy raspberries
Roll it up tightly, tugging and pulling as you go
Cut up rolls with floss or baker's twine
Place in prepared muffin tins and spoon more of those yummy raspberries on top
Let them rise until doubled in size
Brush on an egg wash to create a golden shiny finish
Bake and cool before glazing with the lemon glaze
There's nothing left but to enjoy!!
I always like to have everything I need prepared and ready to go for a smooth baking session! Since you'll need to work with chilled dough, prepare the filling and raspberries ahead of time.
When rolling out, be sure to leave a border at the top of the dough. This will help you create a good seal, pinching the dough together.
All the flavors of this filling go so well together! The cream cheese is whipped with a bit of powdered sugar. Sweetening it helps to offset the tartness from the raspberries.
Rolling up these rolls can get a little juicy, especially if your dough starts to warm up and soften too much. Be sure to work quickly while the dough is still chilled. If you've rolled it up and the dough feels very warm and too soft, wrap the dough roll in plastic wrap and chill in the refrigerator for 30 minutes. Then, go ahead and cut up the individual rolls with floss or baker's twine. They will cut more easily that way.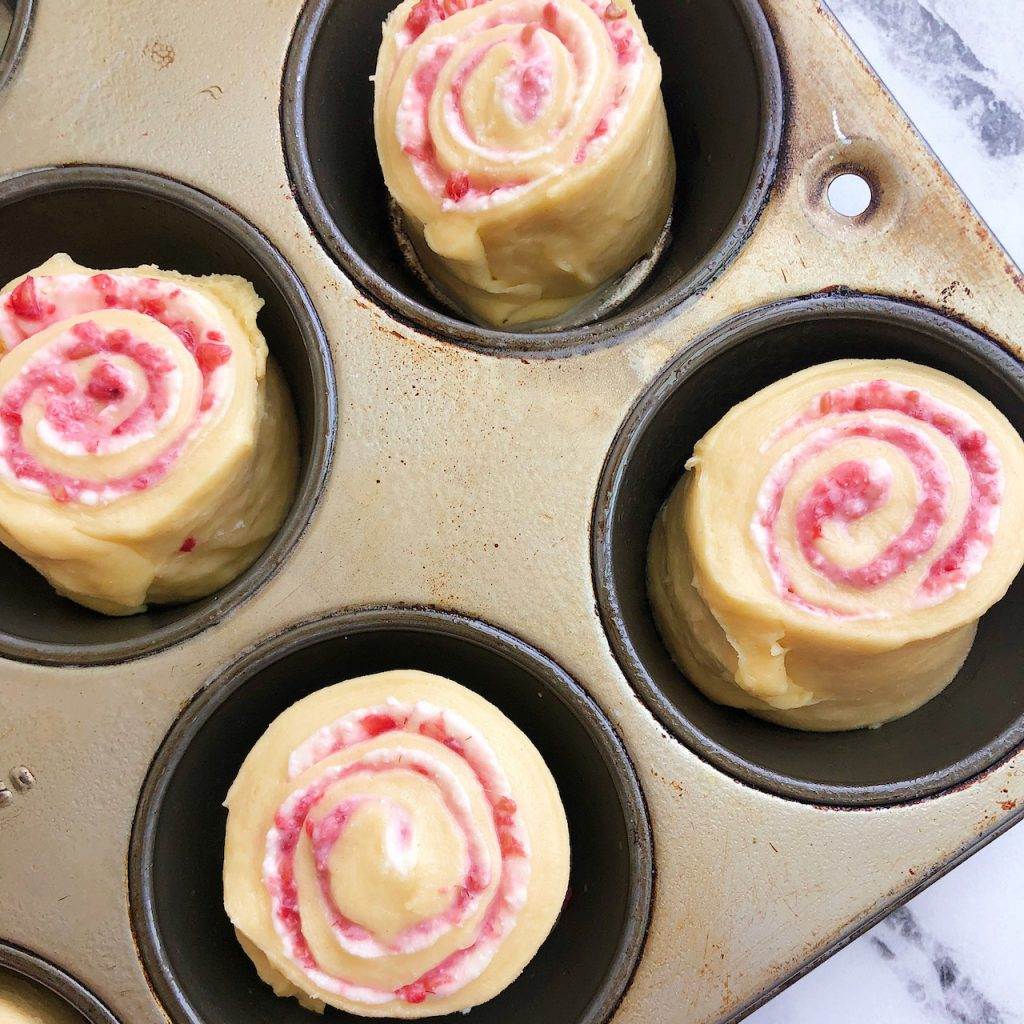 Baking these rolls in a muffin tin is the perfect way to keep them in proper form. As brioche warms, it softens and will spread if not in a pan. The shape of the muffin tin helps to keep the structure of the roll shape as it rises and bakes.
It goes without saying that enjoying these Raspberry Brioche Rolls fresh will give you the most delicious results. If by some crazy chance, we have any leftover, I simply leave them uncovered on a cake platter. They will stay good like that for up to two days after baking. Storing them in an airtight container or covering them, will make them soggy and that's not what we're going for here! These rolls should be flaky on the outside. The cream cheese and raspberry filling will keep the inside nice and moist!
Enjoy these rich, delicious rolls! They are beautiful and yummy and worth the time spent making them!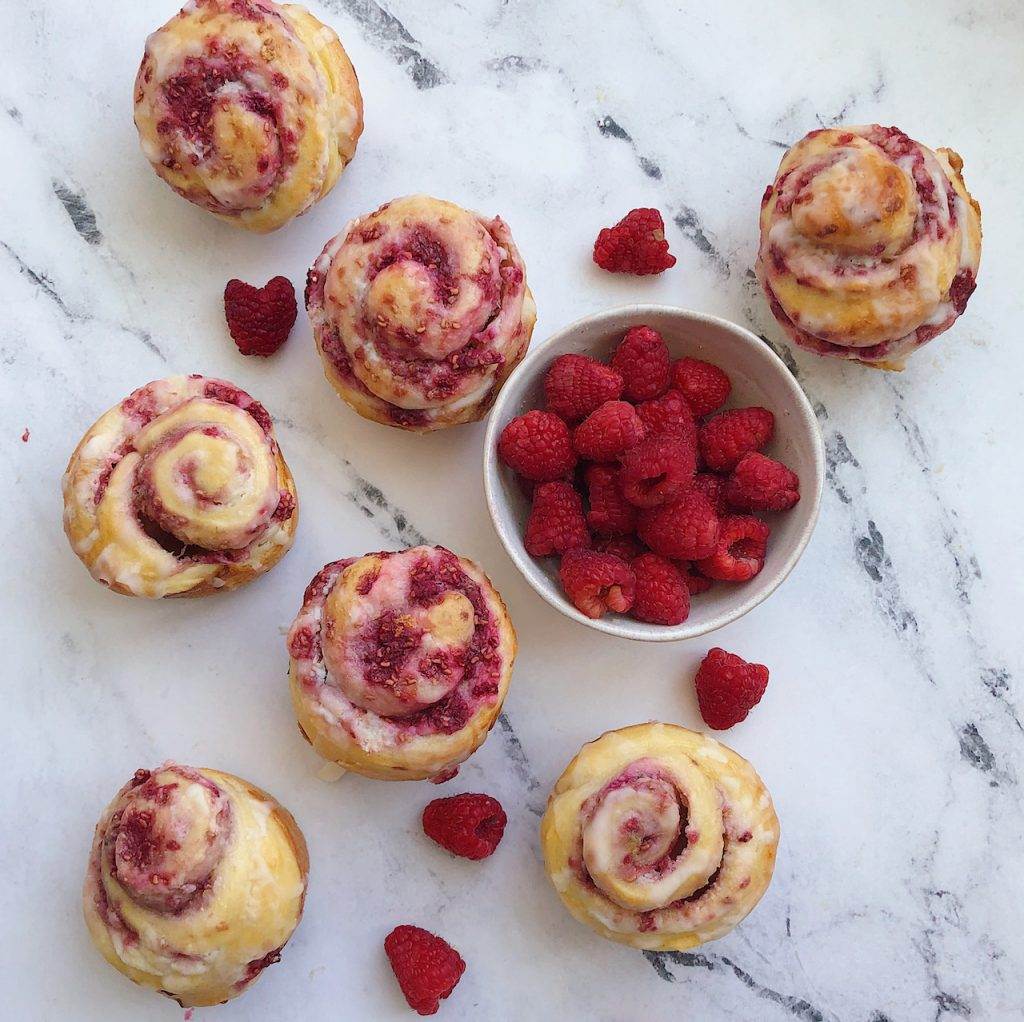 Other yummy recipes you might like:
The Ultimate Strawberry Shortcake
Do you love creating in the kitchen and want to be part of my baking community? Maybe you are a beginner bread maker and don't know where to start? Lots of other bakers like you have joined my Baking Academy! We chat back and forth through my private Instagram account, reserved just for my Members. We have weekly Instagram Live baking discussions and I give bonus recipe demos! We're making friends as we study, master and experiment with new recipes each week – becoming better bakers bit by bit! Go HERE to learn about how you can be part of this fun and delicious community of bakers!
Print
Raspberry Brioche Rolls
These rolls are the perfect balance of sweet and tart! A sweet cream cheese filling balances the tart flavor from the fresh raspberries. All wrapped up in delicious buttery brioche, top these rolls with a lemon glaze for the perfect raspberry treat!
Ingredients
24 ounces

of prepared and chilled Brioche dough

4 ounces

cream cheese, softened

1/2 cup

powdered sugar

8 ounces

fresh raspberries
Glaze:
3 cups

powdered sugar

2

–

3

Tablespoons milk, as needed for thick consistency
the zest of one lemon
1

egg, plus 1 Tablespoon of water for egg wash
Instructions
Prepare muffin tins by spraying with non stick spray.
In a medium bowl, cream together the cream cheese and powdered sugar with a handheld electric mixer. Set aside.
In a food processor or blender, puree the raspberries and set aside.
On a floured work surface, roll out prepared and chilled Brioche dough into a 10×18 inch rectangle.
Spread the cream cheese mixture on the dough, leaving a 1 inch border along the top of the 18″ side. 
Spread the pureed raspberries on top of the cream cheese mixture, reserving 1/4 of the mixture.
Starting at the bottom, roll up the dough, tugging as you go to create a tight roll. Ending at the top where you left a clean border, pull the edge over the roll and pinch the seam shut, creating a seal.
Using floss or baker's twine, cut 12 equal size rolls, about 2 inches in size. Place the rolls in the muffin tin. Spoon remaining raspberry puree on top of each roll.
Allow to rise in a warm area until doubled in size.
Preheat oven to 350°F.
In a small bowl, whisk together the egg and water to make an egg wash. Brush on top of each roll, coating all of the exposed dough. 
Bake for 20-24 minutes, until golden brown.
Allow to cool in the muffin tin for 10 minutes before removing to cool completely on a wire cooling rack. 
In a medium bowl, whisk together the powdered sugar and milk. Add just enough milk to get a thick consistency, similar to Elmer's glue. You want a smooth, but thick texture. You may need to add more powdered sugar or milk, depending on the consistency. Once you have the desired consistency, add the lemon zest and stir in.
Using a spoon or ladle, get a good stream running, drizzle in a back and forth motion over the rolls. Apply as much glaze as desired. Allow the glaze to set and harden for about 15-20 minutes. *A set glaze will give a more pronounced lemon flavor and will not soak into the dough.
Enjoy!
Store any leftovers uncovered, for up to 2 days.
Notes
Use my Brioche recipe for great results!
Storing the rolls uncovered will keep the rolls nice and flaky. 
If using frozen raspberries, allow them to defrost before putting in the food processor.