Pronounced BREE-OH-SH, this rich, buttery bread is flaky on the outside and has a soft, buttery crumb on the inside. This dough can be shaped into so many different kinds of loaves and buns. For visual help on mixing and shaping, check out my Baking Academy!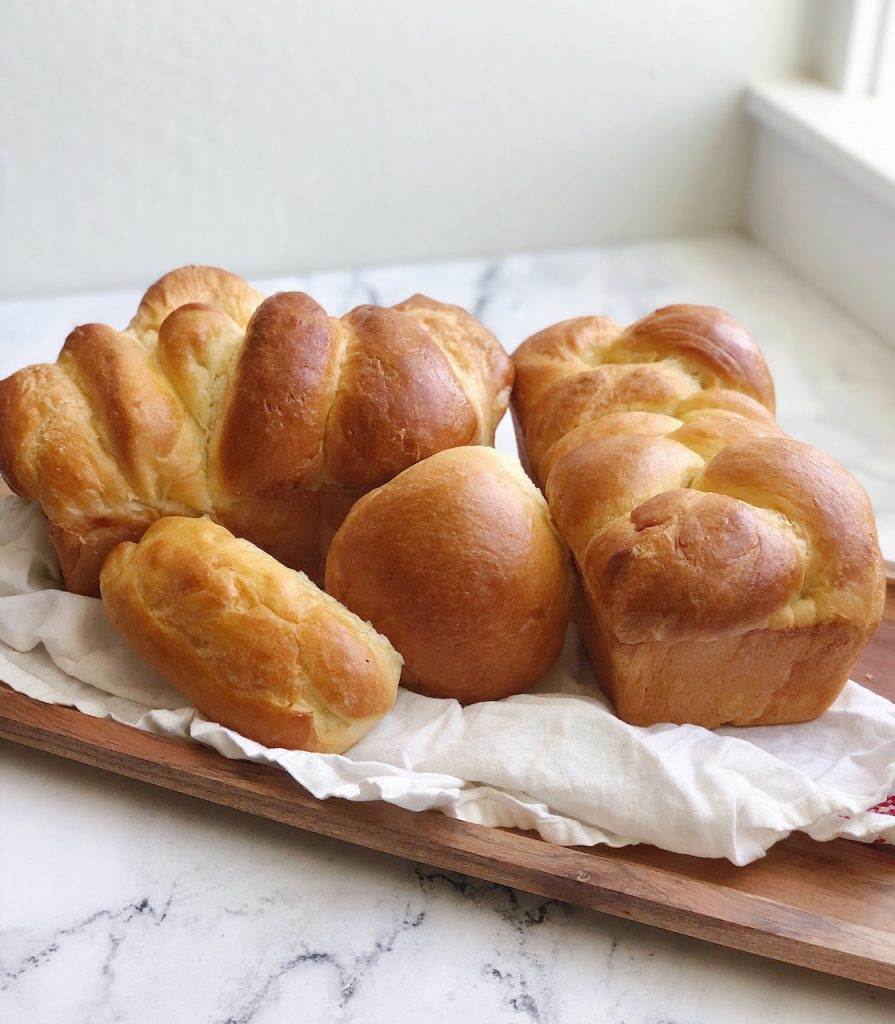 So many uses for this buttery dough:
Loaves for French Toast OR the perfect Grilled Cheese Sandwich
Buns for hamburgers or BBQ
Buns for hotdogs
Slider buns for BBQ, pulled pork, ham sammies – or my personal favorite, top them with Everything Bagel Seasoning for the MOST delicious ham sandwich ever!
Whatever you're serving, this fancy bread makes all the difference!!
This recipe is not one I'd recommend to a beginner bread maker, but it's not out of reach!…I offer a Brioche class, for those looking for extra guidance and help in mastering the mixing process and shaping different loaves and buns.
*Go HERE to learn more about getting access to my Brioche class – watch my step by step, pre-recorded video where I walk you through this recipe from start to finish! (showing you how to mix the intricate dough and shaping several different loaves and buns) Learn on your own schedule, at your own pace, watch the video as many times as needed!
Years ago, I was walking the streets of New York City, a hungry tourist, looking for something yummy to fill my tummy. I was drawn into a small bakery from the aroma of fresh baked bread. That day, I experienced my first taste of this rich, buttery bread known as Brioche! I can still remember it – the outside was this thin, flaky, buttery crust. The inside, a soft tender bread – every bite I took was better than the last! After that trip, I spent nearly two years perfecting my own Brioche recipe so that I could recreate that New York experience at home! What I came up with is pretty darn close and has become one of my absolute favorites!
It's really the ultimate bread indulgence!
What makes Brioche so unique?
Brioche is known for its high egg and butter content. This is what gives it its unique flavor and texture! It's also what makes it toast up so amazingly! The process of incorporating the large amount of eggs and butter can be tricky, and if not done right, won't give you the results you're looking for. Be patient, follow the directions and trust the process! Of course, if you're looking for more detailed help, my Brioche Class is for you!
Be sure to follow me on Instagram – I have some helpful tips on there as well!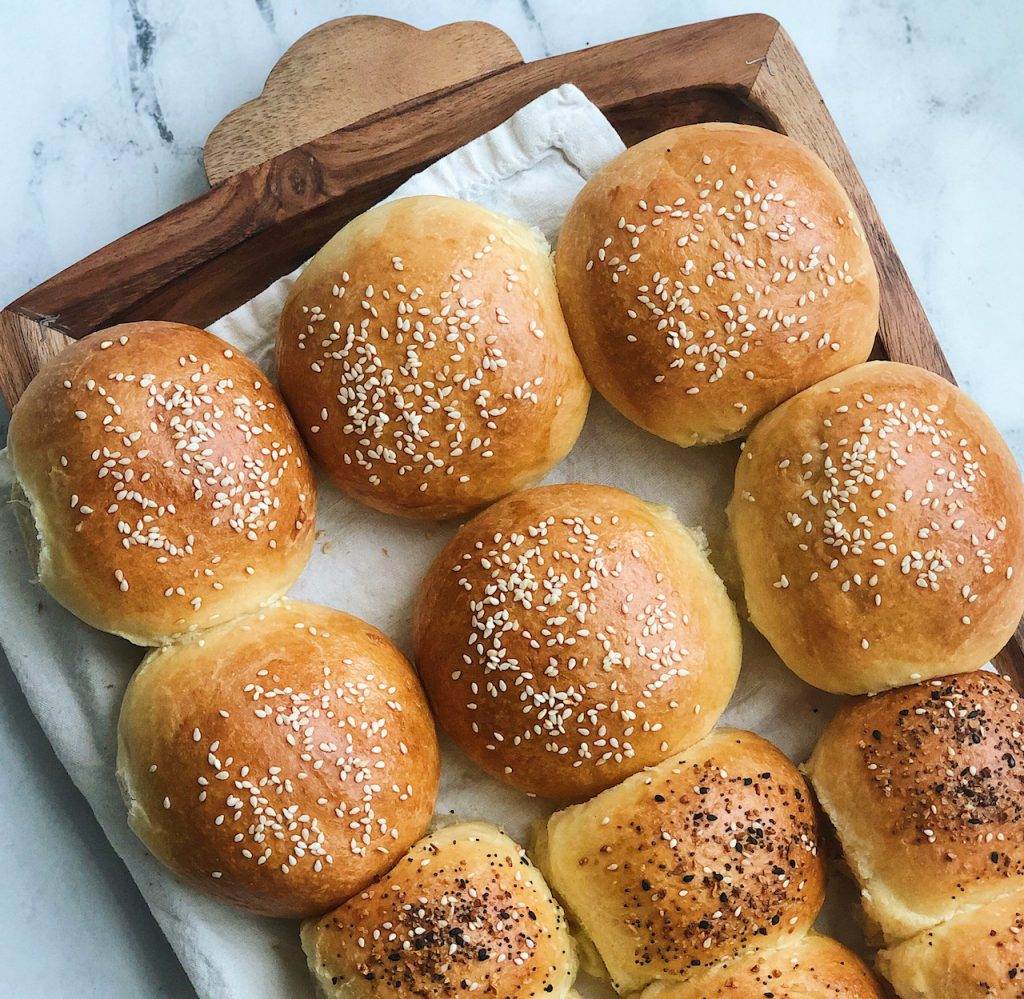 Not only do I love this recipe for its richness and decadence, but also for the many ways you can use this dough! I know you'll love it too!
See more recipes to use with Brioche:
Triple Berry French Toast Bake
---
Do you love creating in the kitchen and want to be part of my baking community? Maybe you are a beginner bread maker and don't know where to start? Lots of other bakers like you have joined my Baking Academy! We livestream together weekly and chat back and forth through my private Instagram account, reserved just for my Members. We're making friends as we study, master and experiment with new recipes each week – becoming better bakers bit by bit! Go HERE to learn about how you can be part of this fun and delicious community!
Print
Brioche
Brioche is a bread of French origin. It's super rich in butter and eggs, making it an extremely deliciously bread. Brioche is the ultimate buttery, fluffy bread and the perfect dough to use for all types of buns for BBQ and sandwiches & loaves for French Toast!
Author: Heather Thomas, That Bread Lady
Prep Time:

12 hours

Cook Time:

30 minutes

Total Time:

12 hours 30 minutes

Yield:

40 ounces

of dough or

2

full size loaves

1

x
Ingredients
1/2 cup

warm milk, 2% or whole (110°F)

1 Tablespoon

plus 1 teaspoon instant yeast

4 Tablespoons

sugar

6

large eggs, room temperature

2 teaspoons

salt

4 1/2

(540g) cups bread flour

1 cup

unsalted butter, room temperature

1

egg for egg wash
Instructions
Fit electric mixer with the paddle attachment. In the mixing bowl, combine the warm milk, yeast and sugar. Let sit for 5-10 minutes, until it is foamy and bubbly.
To that bowl, add the eggs and mix for one minute, breaking up the eggs. 
In a separate bowl, combine 2 cups of the flour and the salt. Add to the mixer and combine with the egg mixture. Mix for 3 minutes on medium speed.
Turn mixer to low speed and gradually add 2 more cups of the flour until incorporated. Mix for 5 minutes, stopping half way to scrape down paddle and sides of bowl. Turn off mixer and check dough with finger, if it is overly wet or sticky add up to 1/2 cup more flour and mix on low speed until incorporated. Dough should be soft but not wet. 
Slowly add the butter, 2 Tablespoons at a time. Mix well after each addition, scraping sides of bowl as needed. After incorporating all of the butter, switch to the dough hook attachment and knead for 8-10 minutes. Dough should be cleaning the sides of the bowl and clinging in one ball to the dough hook. *Try window pane test (see notes).
Put dough in a medium bowl sprayed with nonstick spray. Cover with plastic wrap and refrigerate overnight or for 8 hours. Dough will rise about 50% in size.
Remove dough from refrigerator and let sit for 30 minutes.
Prepare pans – if making loaves, spray loaf pans with nonstick spray. If making buns, line baking sheet with parchment paper.
Turn dough out onto a floured work surface. Divide dough as needed – see notes for weight suggestions for different dough uses. 
Shape loaves or buns, as desired. If making buns, round dough into balls, slightly flatten and place almost touching on prepared baking sheet, cover with a slightly dampened light-weight kitchen towel and let rise about double in size. If making loaves, place shaped loaf in greased bread pan and cover to let rise until double in size. Depending on how warm your kitchen is, this will take about 1-2 hours. 
Preheat oven to 375°F. When bread is ready to bake, combine one egg with 1 Tablespoon of water to create an egg wash. Brush the egg wash onto the tops of the bread. 
Bake loaves for 28-30 minutes or until deep golden color. When tapping on the crust, it should have a hollow sound. See notes for different bake times for buns and rolls.
Allow bread to cool in pan for 10 minutes before turning out onto a wire rack to cool completely. 
Notes
Suggested weights for different breads: full size loaf ~21oz, hamburger buns ~3-3.5oz, slider buns ~1.5oz, hotdog buns ~3oz.
Bake full size loaves for 28-30 minutes. Bake buns for 22-25 minutes.
To check dough with the window pane test, after the dough has kneaded for 8 minutes, gently stretch a piece of the dough apart. It should appear fairly translucent without tearing immediately. If it tears before stretching 1-2 inches, return to the mixer and knead an additional 1-2 minutes. Check again. This is a good indicator if the gluten in your dough has developed. 
To check dough to see if it is ready to bake, gently press with fingertip or knuckle. If the dough springs back right away, it needs more proofing. But if it springs back slowly and leaves a small indent, it's ready to bake. 
Easily print out a double recipe by clicking on the "2x" tab at the top of the recipe. A double recipe would mix really well in a Bosch mixer.