A fluffy banana muffin recipe made with sourdough discard! This classic muffin recipe is moist and full of banana flavor and has a hint of yummy cinnamon. You'll love the flavor sourdough adds to these muffins!
Does it get anymore classic than a homemade banana nut muffin? It's a recipe every baker should have in their repertoire! I love this muffin recipe because it makes fluffy, moist and flavorful muffins AND I get to use my sourdough discard instead of tossing that liquid gold away!
There's no waste here! We're using ripened bananas and sourdough discard – heck, there's no throwing anything out here! Use up those bananas that have browned a little too much for anyone to want to eat them. And when you go to feed your starter, don't throw out that discard! Both of these ripened ingredients are going to add amazing flavor to these muffins!
This recipe is based on my Banana Crumble Bread. If you'd like to make an amazing banana bread, you can find my recipe HERE.
Using Sourdough Discard
If you're not familiar with what discard is, let me give you a brief overview of this magical mixture my friend. Sourdough Starter is made simply by mixing flour and water together and allowing it to ferment. It requires fresh flour and water to replace most of the mixture on a regular schedule – this keeps the good bacteria in and allows it to become a leavening agent in baked goods. Discard is the part of the ripe starter that usually gets tossed out when you feed it with fresh flour and water.
If you have or are maintaining a starter, then you know it can feel pretty wasteful every time you feed it and throw out most of that mixture. This is why I love a good discard recipe – it helps me to make the most of my hard work! If you are wanting to create a starter for baking, go HERE for my 7-day guide on How to Create a Sourdough Starter from Scratch.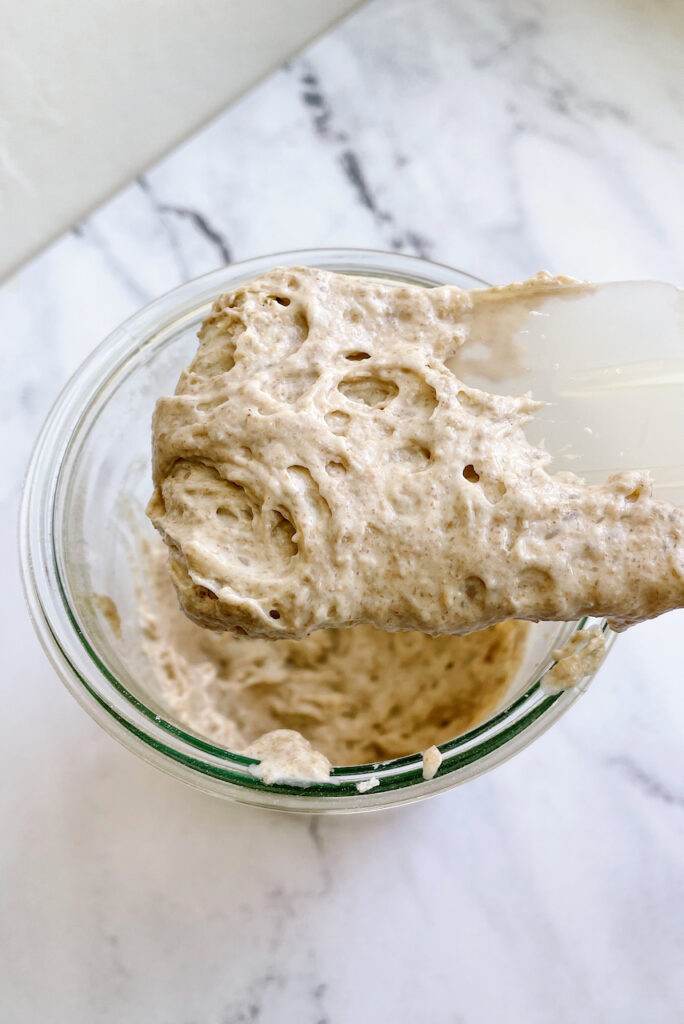 It's Bananas!
Using ripe bananas is really key here. When bananas ripen, their starches turn to sugar…making them sweeter. Their sweetness helps to make these banana muffins extra delicious! Use bananas that have some brown spots on them!
If you've got a bunch of green bananas and want to speed up the ripening process, you can put them in a paper bag with ripe fruit. Fleshy fruits like tomatoes give off a burst of ethylene gas as they ripen – so if you have a very ripe tomato, put it near your green bananas instead of throwing it out! Place the bananas in a paper bag with your ripe fruit and fold the top of the bag to contain that ethylene gas. This way, your bananas should ripen within a couple of days.
Making Banana Nut Sourdough Muffins is so easy!
Preheat your oven first so that it's ready to go when you've finished preparing the batter. Get the muffin tin prepared with paper liners too.
In a stand mixer, cream together the butter and sugars until they're smooth. Add the rest of the wet ingredients, including the sourdough discard.
In a separate bowl, combine all of the dry ingredients. I use a wire whisk to mix them all together so that they are evenly distributed into the recipe.
Add the dry to the wet ingredients. Be sure not to over mix to avoid dense muffins.
Use an ice cream or muffin scoop to easily fill the muffin liners 2/3 full.
Bake for about 22-25 minutes, or until a toothpick inserted comes out clean.
Enjoy!!
Storing the Muffins. If by some crazy circumstance, you have any extra muffins, bring them to room temperature before storing in a zip top freezer bag – cooling them will prevent any condensation from forming. Keep them on the counter for up to two days or in the refrigerator for up to four days. Reheat them in the microwave for about 30 minutes. You can make an extra batch and keep them in the freezer for a quick and easy breakfast or snack. Again, store them in a zip top freezer bag – remove the muffins from the freezer a few hours before you want to eat them and let them thaw out on the counter. Reheat them in the microwave for 30 seconds.
More recipes to try
Need extra help with your bread game?
Check out my Baking Academy – my monthly membership that gives you access to ALL of my virtual, pre-recorded baking classes!! Learn the techniques that will give you amazing results as I show you how to make challenging recipes easier, from start to finish! Go HERE to learn more!!
---
Print
Banana Nut Sourdough Muffins
Fluffy banana muffins made with sourdough discard! This classic muffin recipe is moist and full of banana flavor and has a hint of yummy cinnamon. You'll love the flavor sourdough adds to these muffins!
Ingredients
1/2 cup

(

113g

) unsalted butter, room temperature

1/2 cup

(

107g

) brown sugar, packed (light or dark)

1/4 cup

(

50g

) granulated sugar

2

eggs, room temperature

1 teaspoon

pure vanilla extract

1 cup

(

220g

) mashed ripe bananas (about 2 medium bananas)

1/2 cup

(

113g

) sourdough starter, ripe or discard

1/4 cup

(

57g

) milk, room temperature (use either 1% or 2% milk)

1

& 2/3 cup (

210g

) all-purpose flour

1/2 teaspoon

baking soda

1/2 teaspoon

baking powder

1/2 teaspoon

salt

1 teaspoon

ground cinnamon
Optional: 1/2 cup chopped nuts (I prefer walnuts, but you can use what you like)
Instructions
Preheat oven to 350°F. 
Prepare muffin tins with liners.
In the bowl of an electric mixer, cream together the butter, brown sugar and granulated sugar until smooth, about 1-2 minutes.
Add the eggs and mix until combined.
Add the vanilla, mashed bananas, sourdough discard and milk and mix until combined. 
In a separate bowl, combine the flour, baking soda, baking powder, salt and cinnamon. Add the flour mixture to the wet mixture and combine until all ingredients are fully incorporated (you may need to stop and scrape the mixer bowl half way through to make sure there are no lumps of unmixed ingredients). Avoid over mixing as this will make the muffins too dense. If you are adding chopped nuts, stir them into the mixed batter.
Scoop the muffin batter into each prepared muffin liner, filling about 2/3 full. 
Bake muffins for 22-25 minutes or until a toothpick inserted comes out clean with only a few moist crumbs.
Let muffins cool in the pan for 10 minutes before removing to cool completely on a wire cooling rack.
Enjoy!
Notes
Using sourdough starter creates an amazing, more complex flavor in baked goods. If you don't have a sourdough starter, you can create one with my 7 day guide HERE.
You can replace the starter in the muffin recipe with 1/2 cup sour cream.