A much-loved family recipe, this dessert hits all the right notes – layers of cookie crust, sweet custard and tart cherries mixed with whipped cream! Let it set in the refrigerator overnight and enjoy this deliciously chilled dessert!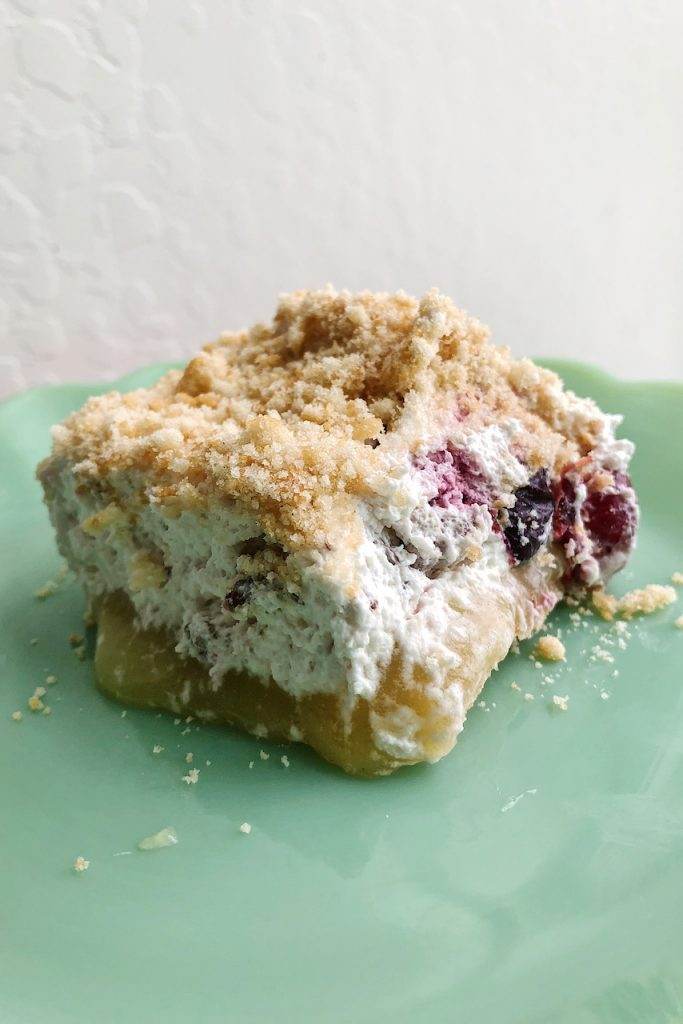 Cherry Icebox Dessert has been an iconic recipe in my family for years! It's my dad's favorite treat. My mom always makes it for his birthday. I'm sure she has made this recipe hundreds of times! Growing up, it was like finding a buried treasure whenever one of these would appear in the refrigerator!
If you're not old enough to know what an icebox is, I'm jealous haha! An icebox is an old school term for a refrigerator. This chilled dessert is perfectly refreshing for a hot summer day!
My mom's number one tip for this recipe
Let it chill overnight. The longer you can let it set in the refrigerator, the better it gets!
This beautifully layered dessert has several delicious layers that all compliment each other. Sweet mixed with tart. Crunchy mixed with fluffy. Every bite gets better and better!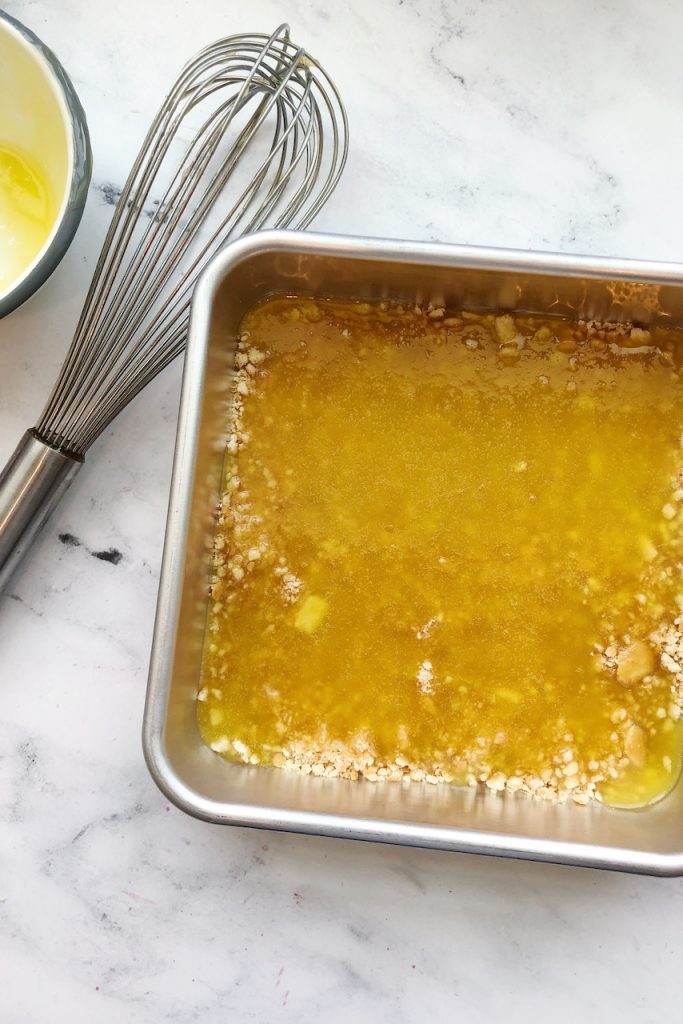 Let's talk about this custard.
Sometimes old family recipes can seem a little strange, but the nostalgia of enjoying them for years pushes that aside. When I made this for the first time, I was a little unsure of how this custard was going to turn out. But trust me – it's absolutely one of the best parts of this icebox dessert! The sweet buttery egg mixture soaks into the cookie crust, creating a rich base for the rest of the dessert! It's so yummy and you'll be looking for this custard in every bite!
Whisk together the powdered sugar and butter on low heat and don't stop stirring! It takes a bit of time, but don't walk away from the stove. Plant your feet there and stir until it's completely combined. Avoid browning the butter as that will completely change the texture and flavor of the custard.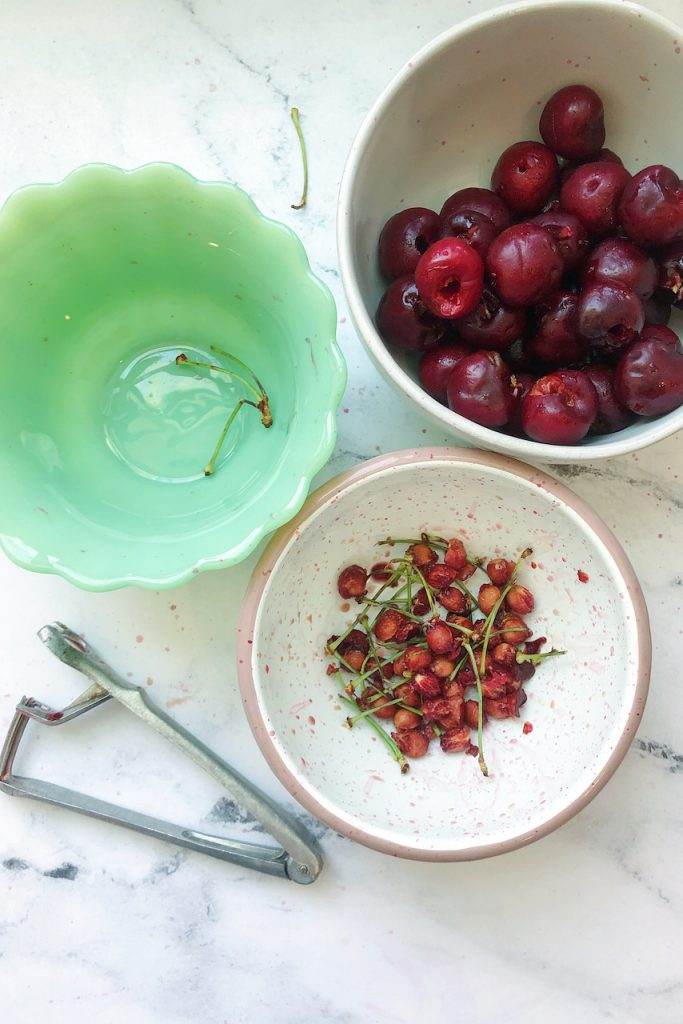 Cherries
There are a few different options for your cherries. I love to use fruit when it's in season, so making this with fresh cherries is always a favorite for me!
Fresh Cherries: Use what's in season and what you like. There are hundreds of varieties of cherries! Some are sweet and some are more on the sour side. I like to use Bing Cherries – they are most available in my area in Arizona and they have a sweet but slightly tart flavor. The rest of the ingredients in this recipe are sweet, so adding a cherry that's slightly tart will balance it out perfectly! Sour cherry varieties work well too, but be sure to add a spoonful of sugar to cut a bit of the tartness. Use a cherry pitter like this one. It will save you lots of time and make your life so much easier!
Canned Cherry Pie Filling: Growing up, my mom always used a canned cherry pie filling for Cherry Icebox Dessert. Mixing it together with the whipped cream created a beautifully pink color and sweet creamy filling! Canned cherries are a great option if you make this dessert when cherries are not in season.
Filling
Whip the cream in an electric mixer to make sure it's nice and thick. Folding in the cherries and chopped pecans to the whipped cream will soften it up a bit, so you'll want to be sure to have a thick whipped cream to start with. After spreading the filling on top of the custard, top it with the remaining Nilla Wafer crumbs and chill for several hours. Chilling it will allow that filling to set up nicely, making it easier to slice and serve.
I know you'll love this dessert! Share your creation on Instagram and tag me (@thatbreadlady). I'd love to see how you are enjoying it with your family!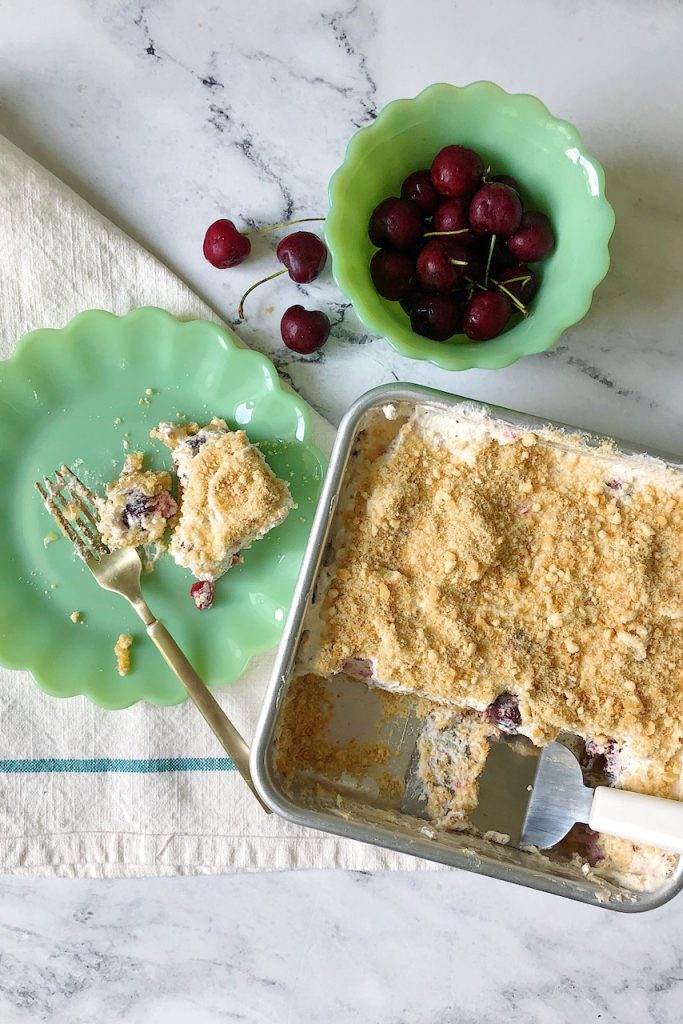 ---
Want more help developing your talents and love for baking?
Check out my BAKING ACADEMY – my community of bakers that get extra help from me, a professional baker, helping you to make the most of your time in the kitchen!!
---
Print
Cherry Icebox Dessert
A much-loved family recipe, this dessert hits all the right notes – layers of cookie crust, sweet custard and tart cherries mixed with whipped cream! Let it set in the refrigerator overnight and enjoy this deliciously chilled dessert!
Ingredients
1

& 1/2 cups (about

4.5 ounces

) crushed Nilla Wafer cookies, separated

1/2 cup

unsalted butter

1 cup

plus 3 Tablespoons powdered sugar 

1

large egg, room temperature

1

& 1/2 cups heavy whipping cream

2 cups

fresh cherries*, pitted and sliced in half

3/4 cup

chopped pecans
Instructions
In a food processor, pulse the Nilla Wafers into a fine crumb texture. Spread 1 cup of the crumbs on the bottom of a 8×8 pan. Set aside.
In a medium saucepan, melt the butter and 1 cup of powdered sugar on low heat. Stir constantly with a wire whisk until fully combined. Remove from heat and let cool for 2 minutes.
Temper the egg by adding a spoonful of the butter mixture to the beaten egg and whisk together. Add the egg to the rest of the butter mixture and fully combine with a wire whisk. Pour mixture over the crumbs in the 8×8 pan. Put in the refrigerator to set for at least one hour.
With an electric mixer, beat the whipping cream and 3 Tablespoons of powdered sugar until stiff peaks form. Keep in the refrigerator until ready to assemble the dessert.
Fold the cherries and chopped pecans into the whipped cream. Spread over the set custard. Sprinkle the remaining 1/2 cup of Nilla Wafer crumbs on top.
Chill the dessert for at least 3 hours. Chilling overnight will be even better!
Notes
*Bing cherries work well because they are sweet but slightly tart. If using sour cherries, toss them with 2 teaspoons sugar. You can also replace the fresh cherries with 1 21-ounce can of cherry pie filling.
This dessert is best if chilled overnight!