Monkey bread is a one dish bake of lots of pull-apart fluffy rolls, coated in a buttery, cinnamon and sugar mixture. It's the perfect treat for feeding the whole family! Serve it hot out of the oven for the ultimate sweet and gooey comfort food!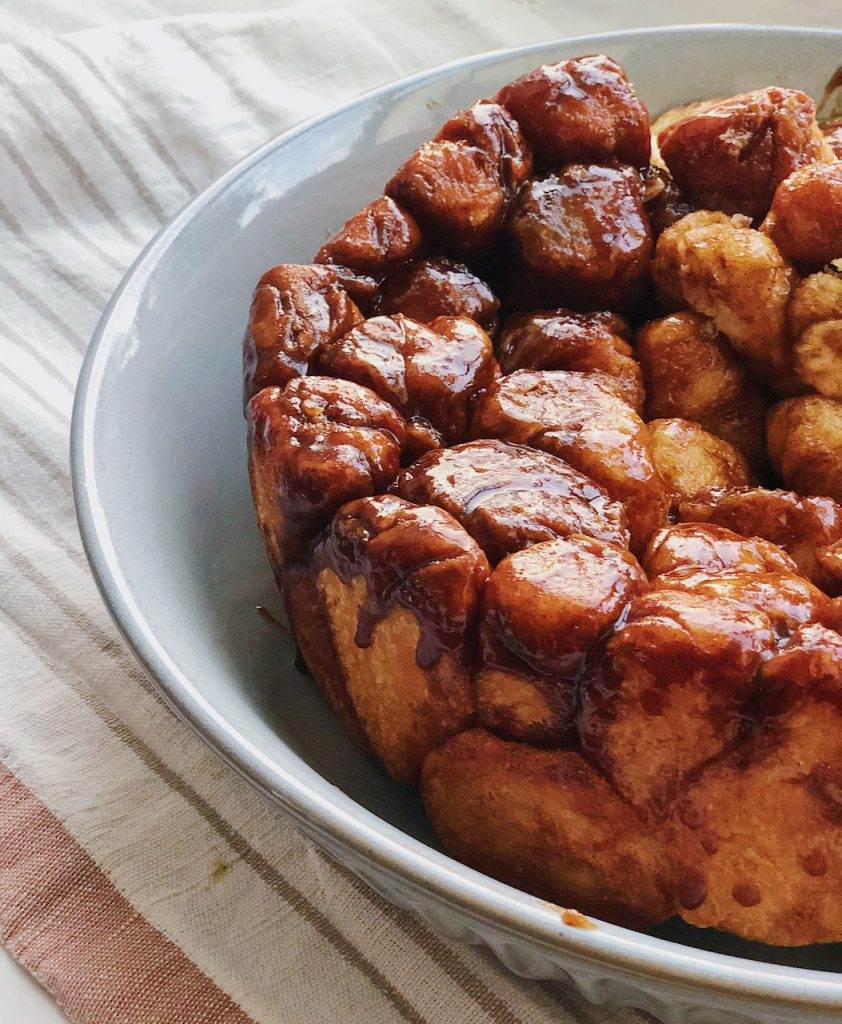 Monkey Bread has always been a favorite family treat! If you've never experienced this pull-apart gooey goodness, get ready to live!
Steps to make Monkey Bread
Prepare the dough: This dough recipe comes together so easily. We're using the same dough recipe that we use for my fluffy Skillet Rolls! After mixing, let it rise in a bowl.
Roll up the dough balls: No rolling pin required – you can simply pull and tug at the dough, spreading it out to a 1/2 inch thickness. Cut up small pieces of dough and quickly roll into balls – this is a great project for little hands!
Prepare the Topping.
Layer the rolls and Topping: This melted butter, cinnamon sugar mixture will cover the dough balls and create a gooey, caramelized coating around every single roll!
Let it rise in the pan until nice and puffy!
Bake until it's nice and golden.
Let the baked bread rest in the pan for 5-10 minutes.
Invert onto a platter and dive in while it's nice and hot!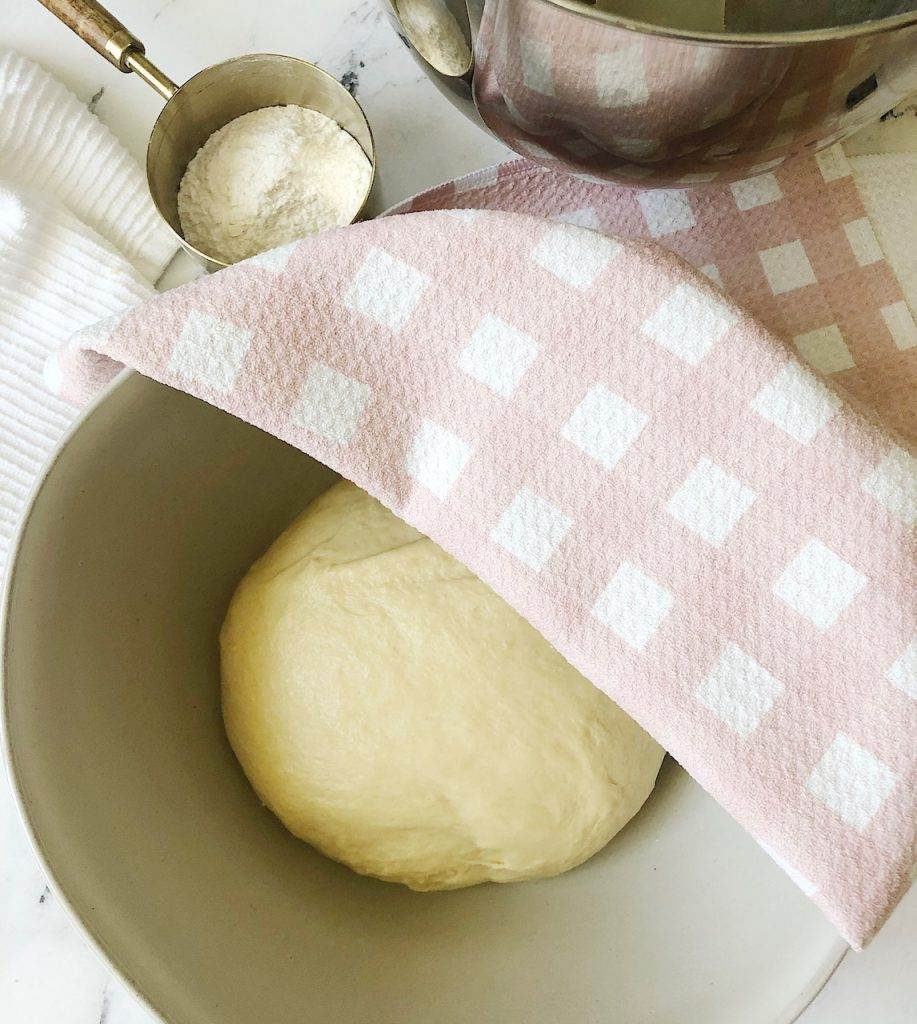 This bread dough comes together so easily! If you're new to bread making and working with yeast, this recipe is for you. After mixing the dough, you'll put it in a greased bowl and cover and let rise until doubled in size. Try to keep your dough in a warmer area and away from any drafts.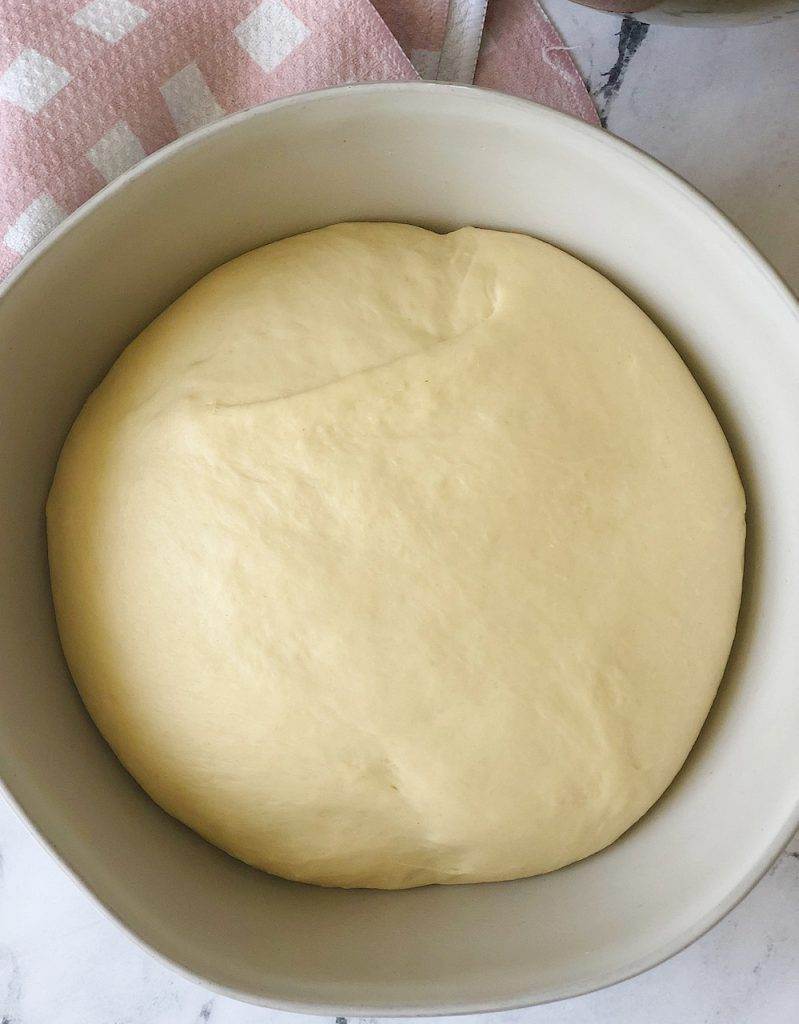 This will be the first of two rises performed. Letting your dough rise (also called "proof") helps it to form strong gluten strands, which will give the bread it's structure. Typically the first rise will take about 90 minutes. When performing a double rise, the second rise is usually not as long as the first.
---
Once your dough has risen, turn it out onto a floured countertop. No rolling pin needed to roll up the dough! The dough should be easy to handle and spread with your hands. Simply tug and pull at the bread until it's about 1/2 inch in thickness. With a pizza cutter, cut out several small pieces of bread, about 1-2 inches in size. You'll get lots of little squares here, but since the rolls will puff up again for a second rise AND we want lots of delicious pull apart rolls, the dough balls will need to be on the smaller side.
This is the perfect time to call your kids into the kitchen and put those little hands to work! My kids love rolling up these dough balls and just a couple extra pair of hands helps this step go quickly! Don't stress about the dough balls being perfectly round. When they rise and puff up during the bake, all of those imperfections will smooth out into beautifully puffed up rolls!
Once you have all of those dough balls ready, prepare the Topping. You'll start putting everything together by spreading a third of the topping mixture into the bottom of your pan. Continue by layering dough balls and Topping. Once the bread has baked and cooled for 5-10 minutes, you will invert it onto a platter – allowing all of that melted butter and cinnamon sugar mixture to drip down through all the cracks and crevices of the rolls! Yum!!
In what type of pan do I bake my Monkey Bread?
Monkey Bread can be baked in a bundt pan or a cast iron pan! I like using my cast iron pan because I can put the lid on to cover it for the second rise. It's just a bit more convenient for me. Just be sure to give your pan a generous coating of shortening before adding your rolls and topping. This will help release the Monkey Bread with ease when you invert it onto a platter. Whatever type of pan you have on hand, this bread is going to be a crowd pleaser!
Once you turn the Monkey Bread out onto a platter – it's hard not to just dive right in and devour that gooey goodness! While you should definitely enjoy it while it's hot, be careful not to burn your fingers!
This baked bread is just so yummy! All of these fluffy pull apart rolls are coated in this buttery cinnamon sugar mixture! There's plenty of scrumptious rolls for the whole family! Baking this bread and cinnamon sugar mixture is almost like having one big cinnamon roll to share with everyone. Make this for a fun weekend breakfast or special dessert – I promise, you'll love this delicious Monkey Bread!
Be sure to try my Skillet Rolls using this same dough recipe!
Make this recipe and share it with everyone on Instagram. Tag me (@thatbreadlady). I love to see how you make these recipes your own!
Print
Monkey Bread
Monkey bread is a one-dish bake of pull-apart fluffy rolls coated in a buttery, cinnamon and sugar mixture. It's the perfect treat for feeding the whole family! Serve it hot out of the oven for the ultimate sweet and gooey comfort food!
Ingredients
For the Dough:
1/4 cup

warm water, 105°F (

59g

)

1 cup

warm buttermilk, 105°F (

225g

/

8oz

)

1 Tablespoon

instant yeast

4 Tablespoons

unsalted butter, melted

1/4 cup

sugar (

50g

)

1 teaspoon

fine sea salt

2

large eggs, room temperature

4 cups

(

480g

) bread flour, plus up to

1/2 cup

more if needed (*see notes)

1/4 cup

vegetable shortening, for brushing in the pan
Topping:
1 cup

unsalted butter, melted

1 cup

dark brown sugar, packed

1/2 cup

granulated sugar

1 Tablespoon

pure vanilla extract

1 Tablespoon

ground cinnamon
Instructions
In the bowl of a stand mixer, combine the water, buttermilk, yeast, 4 T melted butter, sugar, 1 tsp fine sea salt and eggs with paddle attachment. Mix until all ingredients are combined.
Add the 4 cups of flour and mix until just combined. Switch to dough hook attachment and knead dough for 8 minutes. If dough feels excessively sticky, add a bit more and mix until incorporated. Dough should be cleaning the sides of the bowl and clinging to the dough hook.
Spray a medium sized bowl with nonstick spray. Place dough in the bowl and turn to coat all sides. Cover with a clean kitchen towel and let rise until doubled in size, about 1 & 1/2 hours.
Brush vegetable shortening on the inside of cast iron pot or bundt pan (see notes)
Turn dough out onto slightly floured countertop. With hands, gently pull on dough, spreading out until about 1/2 inch in thickness.  Cut into small pieces with a pizza cutter (about 60-80 pieces). Quickly roll into little balls – don't worry about them being very smoothed and rounded out, they will puff up and smooth out as they rise. (This is the perfect time to let the kids help out!)
Prepare the ingredients for the Topping by combining all together in a small bowl. Pour 1/3 of it into the prepared pan and spread to coat the bottom of the pan. Add 1/2 of the dough balls, layering evenly. Pour another 1/3 of the Topping over the tops of the rolls. Add the second half of the rolls. Pour the remaining 1/3 of the mixture on top of the rolls. 
If using a cast iron pot, cover with lid. If using a bundt pan, cover with plastic wrap that has been sprayed with nonstick spray. Allow to rise until doubled in size, about 1 hour.
Preheat oven to 375°F. Bake for 30-32 minutes or until golden.
Leave bread in the pan for 5 minutes. Place a large plate or platter on top of the pan and quickly turn over, releasing the bread from the pan. 
Serve hot but be careful not to burn your fingers pulling apart that gooey goodness! 
Notes
If you don't have a large cast iron skillet, you can use a bundt pan – be sure to coat the inside of the pan really well.
You can substitute the bread flour with all-purpose flour. Use the same measurements.
To check if your second rise has proofed enough, give your dough the poke test. Press a roll gently with your finger to determine if it is properly proofed and ready for baking. If the dough springs back right away, it needs more proofing. But if it springs back slowly and leaves a small indent, it's ready to bake