UPDATE: Retreat is now sold out! Please email me to place your name on the waitlist in case any spots open up!
This Baking Retreat will be an unforgettable experience! Read through all of the information carefully for all of the details. There is a VERY LIMITED number of spots available! Be sure to be ready to register the second it opens up! If it's anything like my previous Baking Retreat, it will sell out very quickly!
Registration is closed!
---
Countdown to registration!
---
About the Spring Baking Retreat

I love baking, learning and making new baking friends! My love for all of these things inspired me to organize a women's retreat centered around baking & cooking experiences. In October 2021, I hosted my first Baking Retreat in Park City, Utah! Eighteen women came from all over the U.S. for this magical weekend! We stayed together in a gorgeous home, surrounded by the beautiful Utah mountains!

I gathered several of my friends who are baking and cooking experts to come teach us their specialties. Classes were taught by Courtney Rich (@cakebycourtney), Elena Davis (@cucinabyelena), Barb Charon (@sweetmacshop who was also my amazing co-host!), Alanna Story (@thesweetstoryline) and me, @thatbreadlady! What an all-star line up, right?!

We learned so much from these women…cakes, pasta, macrons, bread, gourmet candies and so much that can't be experienced through a computer screen.

Now more than ever, we are all craving human experiences. After all we've been through the past couple of years, we need these connections!
For my Spring Baking Retreat I'll be shaking things up with a new location and new class presenters!!
Read on for all of the details!
Dates:
Thursday, April 28 – Sunday, May 1.
The Retreat will begin Thursday evening around 4:00pm for a special dinner together at the Retreat Home. Classes will go through Friday and Saturday. We will head home Sunday morning by 10am.
It's the weekend before Mother's Day! What better way to treat yourself than the ultimate weekend getaway?!
Location:
Bear Lake, Utah
Bear Lake is known as the "Caribbean of the Rockies" with its crystal blue waters. It's a beautiful, highly sought-after, vacation getaway destination!
We will be staying in a beautiful home near the lake. We will have plenty of room for us to relax, unwind and create in the kitchens!
The Salt Lake City International Airport is the closest major airport to Bear Lake.
Class Instructors:
We have some amazing food bloggers coming to teach our classes! You will LOVE getting to know these amazing women! Learning from them, together in the kitchen, spending the weekend with them…we're in for an unforgettable experience!
Tara Bench
Also known as Tara Teaspoon. Tara has an amazing background in the food industry! She is a former magazine editor and trained chef. She spent many years working with Martha Stewart in her various publications, including Martha Stewart Living. Tara was the food director at Ladies Home Journal. She has appeared on several TV shows including, the Today Show, the Martha Stewart show and Food Network.
Tara continues to share her talents through offering her recipes on tarateaspoon.com. She also works as a food stylist and consultant with many different companies. Tara has shared even more of her incredible recipes in her cookbook, Live Life Deliciously. Find more of Tara on Instagram @tarateaspoon.
I'm so excited Tara is joining us! She's the sweetest! I can't wait for you to get to know her even better!
---
Brooke Eliason
Also known as Female Foodie. Brooke lives by the mantra, "Life's too short to eat bad food". She has been featured on Business Insider, Studio 5 KSL, BuzzFeed, Fox 13 Salt Lake City and Deseret News.
Brooke began her food journey back in 2010, when living in Yellowstone, Montana and decided to document eating in every single restaurant in town. She now offers hundreds of restaurant guides and restaurant-inspired recipes on femalefoodie.com and through her own Female Foodie app! She's your go-to person to find all of the best places to eat, wherever you find yourself!
Brooke not only can tell you where to eat, but she also shares incredible restaurant quality recipes you can make at home. Her Instagram @femalefoodie is full amazing tips and recipes for anything you're wanting to create!
Get ready to learn from Brooke! You will love her! I'm excited to have her along to share her knowledge and talents!
---
Si Foster
Creator of A Bountiful Kitchen. Chances are, you've made and fallen in love with many of Si's incredible recipes! She began her food blog in 2008, as a way to share her love of baking. Si fell in love with cooking back in her college days at Dixie College, when she took a pie and bread making class. Learning to make something delicious out of the very simplest ingredients was enough to get her hooked – and aren't we so lucky she fell in love with food back then?!
Si shares her amazing recipes on abountifulkitchen.com and through her Instagram @abountifulkitchen. She has shared her knowledge and expertise in countless baking classes and is well-known for her pie making and chocolate chip cookie recipes!
In anything you read about Si, you will know that her family is her first love. She enjoys being a mother and grandmother and it is evident in all that she does, even in her recipes! And in case you didn't know, Brooke Eliason is her daughter! She's an incredible teacher and I cannot wait for you to meet her! You will love getting know and learn from Si!
---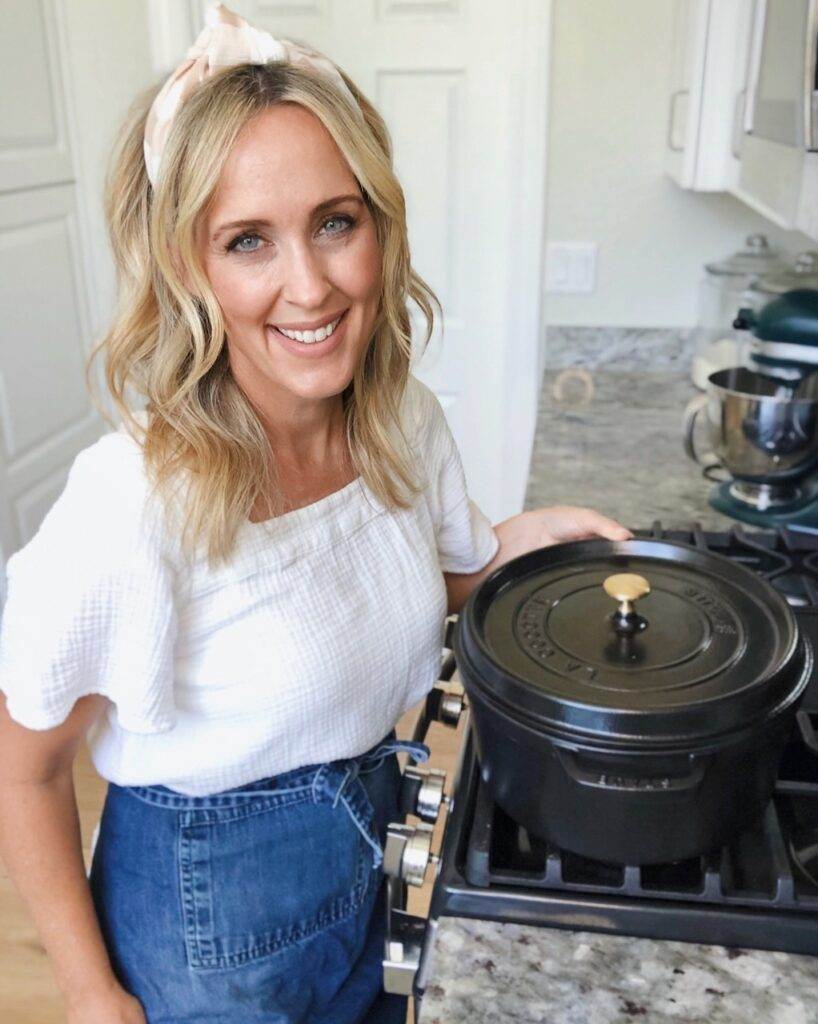 Heather Thomas
Also known as That Bread Lady. Yes! I'll be teaching a class at the Retreat as well and I can't wait to spend some time creating in the kitchen with you!
I began my love for baking as a young child, watching my mom bake breads, cookies and cakes for her huge family of eleven! In 2010, I turned my passion into a home bakery business, specializing in homemade breads. I ran my bakery for ten, crazy busy years, providing countless baked treats for businesses and my own customers. In 2020, I needed to simplify my life and say goodbye to my bakery business. I started thatbreadlady.com and began sharing my bakery recipes through my blog and virtual baking classes. I have appeared several times on Studio 5 KSL and have been featured in Orson Gygi's, At The Table magazine. I have loved helping so many to learn to bake bread through my Baking Academy!
I feel so passionately about the strong bonds we can form with one another through the love of food! Building a community around baking is something that brings me so much joy!
I am so excited to get to know you better and I can't wait to spend this amazing weekend with you!
---
What is included in the Retreat?
This retreat includes lodging for three nights (Thursday, Friday and Saturday nights). You may be required to share either a King or Queen size bed with another attendee. You may also be sleeping in a bunk. The best way to be comfortable with sharing is to bring along a friend!
Also included is all of your meals, Thursday dinner through Sunday breakfast. Let us pamper you!
Four incredible, instructional baking classes by the experts! Classes by Tara Bench, Brooke Eliason, Si Foster and Heather Thomas
Swag bags and giveaways! We love to shower our attendees with fun swag from lots of different sponsors! At our last retreat, we gave away a Bosch Mixer to one of our attendees!
Not included is your travel – you will be responsible for your flight and transportation to and from the house in Bear Lake. You will be able to park at the house. Bring along some friends and share a car – we will also put together a Group Me chat with all of the attendees to connect you all in case you'd like to share rides.
Fees
The Retreat fee is $1900 per person.
A $1,000 deposit is due at the time of registration to reserve your spot. The remaining balance is due by March 31, 2022.
Please note: All payments are nonrefundable, but are transferrable. If you are unable to attend, please contact me – I will offer your spot to the next person on the waitlist. If no one on the waitlist is able to attend, you will have the ability to transfer to a friend. If a replacement cannot be found for your spot, your payments are nonrefundable.
You can sign up more than one person at a time! Once you get to checkout, simply adjust the quantity and update your cart. Please be sure to leave all of the names of the women in your group in the notes section so that you can get your discount for your second payment!
Who can attend
This retreat is for women only, ages 21 and up. We encourage you to register with friends, sisters, your Mom or daughter. We hope this will be an amazing girls getaway for you to relax and enjoy yourself!
Things to keep in mind
No smoking or alcohol are permitted.
There will not be masks or proof of vaccination required.
If you are feeling ill less than one week prior to the Retreat, we ask that you contact us immediately. No refunds will be offered due to illness.
How to Register
We anticipate registration filling up quickly. There are a VERY LIMITED number of spots available!! Please register as soon as it opens up to ensure you get your spot!
Registration begins Thursday, February 10th at 7:00am MST.
Click on "Register Here" button below. Add it to the cart. Checkout and pay your $1,000 deposit to reserve your spot. *The registration page will not go live until Thursday, February 10th at exactly 7:00am.
If registering with a friend or group, leave their names in the notes at checkout.
Any questions
If after reading through this information, you have any more questions, please reach out to Heather at [email protected]
Good luck! I am looking forward to meeting you and having an amazing weekend retreat with you!